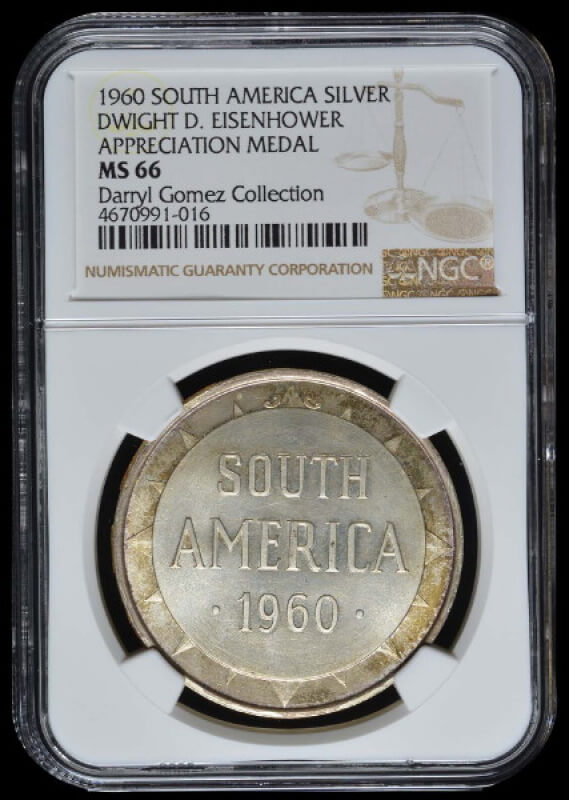 U.S. Mint Medal: Documenting the Pedigree of a POTUS sGm
My career as an engineer keeps me busy...(last post was in September 2018!)
POTUS sGm = President of the United States special Government medal
sGm = Medal struck by the U.S. Mint without an enacted federal law for the medal itself.

Today's blog is about the pedigree of a President of the United States (POTUS) special Government medal (sGm) award that I purchased about a year ago and recently had it encapsulated and graded by NGC. There was a sticker with cryptic writing on the original coin holder of this POTUS sGm: "Purchased from J.L. from Rufus Youngblood secret serv. agent who threw himself in front of Johnson at Kennedy Assasination [sic] (line separating text) Ike Present to R.Y."
After some investigation this is what I found:
1. Who is J.L.? J.L. is Joseph (Joe) Levine of Presidential Coin & Antique Company. Inc. in Clifton, Virginia. I contacted Joe (via email) about this Rufus Youngblood POTUS sGm (he purchased my second book, I assisted him with information on other POTUS sGm he was listing in an auction, I purchased a few items from his auctions, and I owe him a complementary copy of my next POTUS sGm book). He replied by confirming he did acquire several pieces personally from Rufus Youngblood. He does not remember exactly what he purchased, but one stand out was a gold medal awarded to Rufus Youngblood that found its way to be part of the Lyndon. B. Johnson Presidential Library.

2. Who is Rufus Youngblood? Rufus Youngblood was a Secret Service agent known for shielding Lydon B. Johnson during the assassination of John F. Kennedy. He wrote a book: 20 Years in the Secret Service: My life with Five Presidents (1973). In his book, he wrote the following: "... and during Ike's final year in office I was called on to take part in advancing a trip he planned to South America."

Based on these investigation results, it can be said that this POTUS sGm was owned by Rufus Youngblood, Secret Service agent, who is known for his deed to protect then Vice-President Johnson during the assassination of President John F. Kennedy. He served under five Presidents, one of whom was Dwight D. Eisenhower. One of his duties working under President Eisenhower was to take part in preparing an advance security plan to protect the President during his South America visit (February 23 through March 3, 1960). President Eisenhower's South American trip included visits to Brazil, Argentina, Chile, and Uruguay. President Eisenhower presented this POTUS sGm to Rufus Youngblood as noted on the original holder.

This POTUS sGm was kept in a high state of preservation by being stored in a coin holder for 58 years. This POTUS sGm was purchased from a gentleman in California with other POTUS sGms ( I can assume that the other POTUS sGms were also part of the Rufus Youngblood "hoard of Secret Service awards").

This POTUS sGm was graded by NGC as MS 66 and is part of my research collection to understand and document both the lost historical and numismatic information of these U.S. Mint medals.
Enjoy!