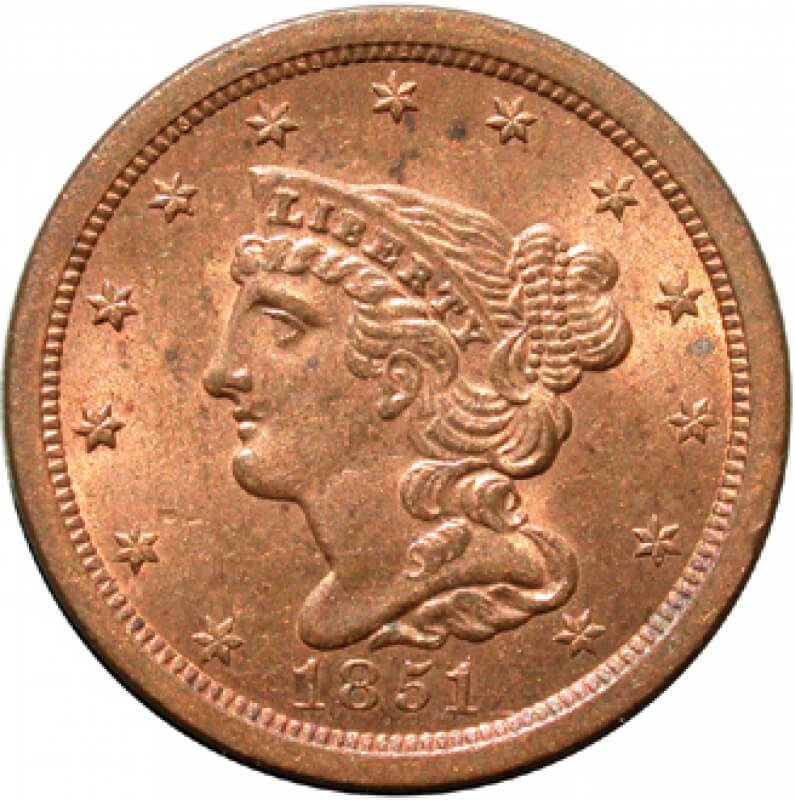 Half cents the coins full of copper!
Hi! Numismatist, this blog was supposed to be for  last last week but didn't have time to finish it.
Otherwise I hope you like my blog also PLEASE GIVE ME A BLOG IDEA. thanks. 
Half cents were minted between 1793-1857 and contained one hundred percent copper. They were designed by Robert Scot. And they were worth half a cent, so it would take two of them to get only once cent. It was also made up of one hundred percent copper! These coins were only minted from Philadelphia because that was the only mint at the time.There are many different types of cent such as the Liberty cap half cent, draped bust half cent, classic head half cent, and the braided hair cent. The Liberty cap half cent was minted between 1793-1797, the draped bust half cent was minted between 1800-1808, the classic head half cent was minted between 1809-1836 and braided hair half cent between 1849-1857. My personal favorite half cent is the matron or coronet head half cent. These coins were often made as civil war tokens and sometimes you can find civil war tokens by coin roll hunting. But, half cents are very hard to find because they were very old and not many are in circulation today. The prices of these coins range from 25 dollars to even hundreds of thousands of dollars! The first year of the half cent was actually 920,000 dollars and the 1794 high-relief finish was sold for over one million dollars! Also the 1796 and 1831 half cents have mintages under 2,500! Half cents were pretty large and that's why many were counterstamped for elections and other things, some were holed for necklaces and some even became civil war tokens or other kinds of tokens like I said before. Half cents were discontinued because of the coinage act of 1857. It was because their mintage numbers for the coins weren't high enough and also because the price of copper went very high. Today an ounce of copper can bring you around twenty five cents. Large cents were also discontinued because of the act of 1857. Later, they made small cents which contained less copper and the size was pretty small. They made small cents like the flying eagle cent, indian head cent, wheat back cent, memorial cent, and the shield cent. Cents are probably also going to be discontinued in 2022 😭😭😭, so stock up your cents. But they probably still are going to be circulating, it's just that the U.S mint will stop minting them. I might be wrong though. Now, back to half cents. You can also get these half cents by doing the EAC project (Early American Copper project, or the ancient coin project to earn one of these cool coins!
Hope everyone had a great NCW!
Stay safe, stay healthy and have fun with numismatics!
Eric 

P.S what what you guys like me to write about message me or leave a comment ;). Thanks guys.