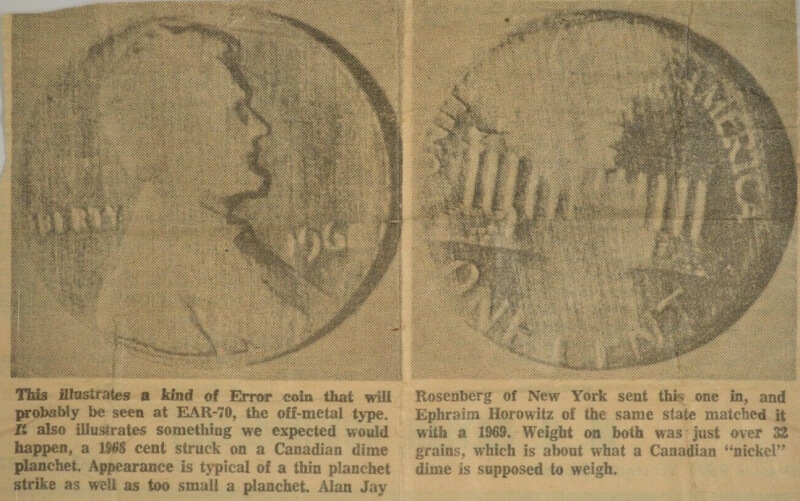 Hello again it has been a busy week for me, how about you?
I return this week with another member of my cast of Freaks.  This oddity appears to be a silver Lincoln cent that spent time on the street face first.  Of course when you flip it over it also shows that it suffered similar abuse to the reverse.  So why should I waste your time with what appears to be damage after the coin left the mint facility making it an outcast even among Freaks.  Using the adage 'all is not always as it seems' likewise so is the case for this little pet.
You see the planchet used for striking this cent of course was not copper nor was it clad and better yet it was not even meant for a US piece at all.  The planchet as created was for a Canadian dime being much harder than either a copper or clad planchet.  So when the dies struck the blow there was not enough pressure to impart the design as intended.  Thus creating what looks like an already well-worn piece.  I have actually seen similar 1968 cents listed on Ebay as struck on either silver or clad planchet which is easily spotted due to this incomplete striking due to the hardness of the nickel planchet.  A typical cent struck on clad dime planchet will still strike up well enough though it may be incomplete at the edges.
So this little freak actually records something that may have slipped by altogether, being that the Philadelphia mint struck Canadian dimes in 1968.  Of course you may already been aware of our mint striking Canadian dimes in 1968 but if not you can even spot the difference between an Ottawa specimen and a Philadelphia product by studying the reeding of a normal piece.
As to stats this of course is in the newer NGC finger style holder.  Interestingly the grade is not listed nor is there any indication why.  It is simply listed 1968 1C STRUCK ON CANADA T-1 10C BLANK (2.09g) MINT ERROR.
I hope you enjoyed this piece and I will hopefully return next week to allow another member of my cast of misfits to take the spot light.