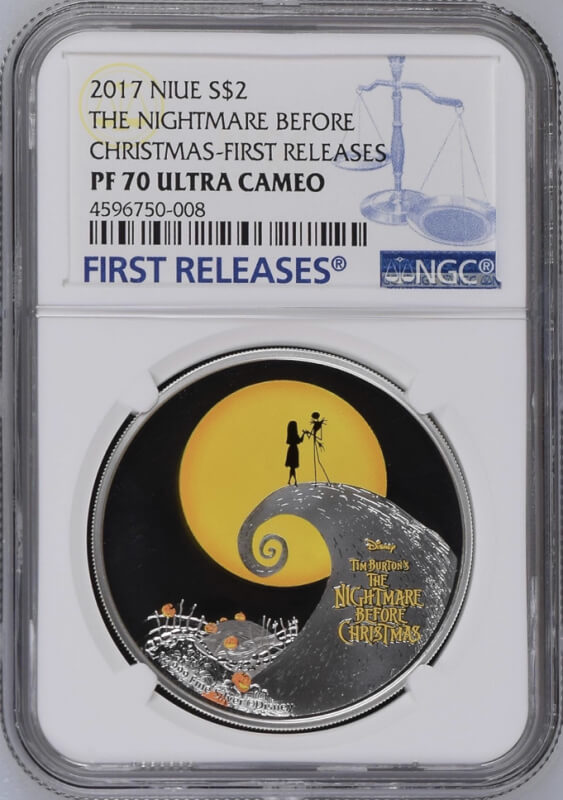 Jack says HAPPY HALLOWEEN from NIEU
Happy Halloween!
Today I have for you one of the overpriced made for collectors, suckers as PT Barnum would have labeled us, who collect coins and like Tim Burton's the Nightmare Before Christmas. 
Now as to my introduction of Tim Burton's hit stop animation movie I have to take you way back to 1993.  I do have to admit the first time I saw flip book at B. Dalton in the mall depicting Jack trying to cut out a paper snow flake only to end up with a spider in a web I thought how stupid.  Still being a child who grew up with the holiday stop animation shorts by Rankin-Bass in the 70's as well as Davey and Goliath that came on right after the national anthem on Sunday morning, remember TV stations use to sign off, my interest was piqued.  So I bought a ticket to see the movie at the same mall and found it to be as described as not a tale so much between good and evil but a holiday musical about a character who felt stuck in a rut.  Haven't we all been there once or twice?  I thoroughly enjoyed it so when the movie came out on VHS I bought a copy so I could watch it every October, then as technology advanced of course I bought the deluxe version on blue-ray.  No I have not advance yet to the digital copy but who knows maybe someday.
As for the coin strangely enough it was struck in 2017, why I am not sure as the 25th anniversary was in 2018.  Maybe they wanted to have it ready for us suckers to snap up with the anniversary approaching.  This coin was issued by Niue, new what, which is a small island state who citizens are considered New Zealanders.  Niue actually issues quite a few of these thematic coins as I also have a Star Trek piece too, but that is a tale for another time.  The coin itself is made of one ounce of .999 fine silver and the denomination is two dollars being limited to a mintage of 10,000 pieces.  The obverse has the portrait of the queen, long live the queen, and the reverse an enameled image depicting a scene of Jack and Sally silhouetted by the moon overlooking the pumpkin patch.  The packaging well it is as cool as the coin, being a coffin within a sturdy cardboard box with, wait for it, glow in the dark graphics.  Yes the box is as much a delight as the coin as it glows brilliant once excited by either daylight or black light.
So in conclusion is it worth it or was I snookered by a shiny well packaged silver round.  Yes and yes, but in the end you should collect what you like though it will not make you richer as they say you just may be richer for it.
Again Happy Halloween!