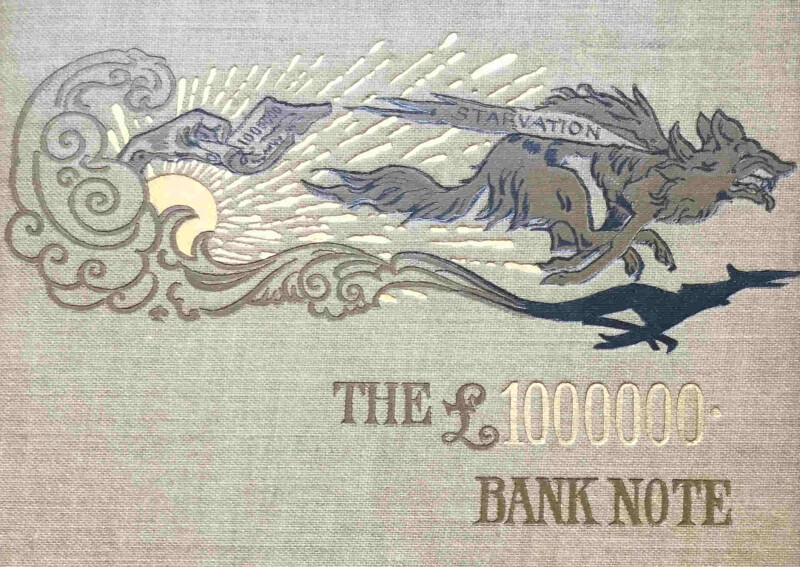 Most of us can think of stories that feature a coin whether in print or on the screen but can the same be said for those of us who collect banknotes. Yes and the one that comes to mind to me is The £1,000,000 Bank Note which features an illustration of a wolf being chased by a similar denomination bank note on the cover. The cover story of this book is actually one of nine short stories that was published 1893 by Charles L Webster & Company of New York. The illustration opposite the title page in that edition features Henry Adams handing the note to the proprietor asking for change. I guess Henry missed the sign at the register that they do not except more than a twenty. Sorry I see that sign too often, so that it would make the sequence of events that make up the plot of this story totally improbable today.
Luckily when they decided to adapted this short story to film in 1954 those register signs were far in the future. Gregory Peck played Henry the lucky receiver of this note in this delightful color movie that first appeared in the UK, funny as the author was an American. If you have not seen the movie it does appear on TMC from time to time should you not wish to read the story. Though I would recommend the book as I found the second story on Mental Telegraphy equally enjoyable. Those familiar with IBook's can find it online for the amazing price of $0.99.
Naturally of course it begs the question did notes of such fantastic value exist and surprising yes they do. Though I have to admit before doing a google search I would have thought it a pure work of fantasy. Then I found the following on a BBC website:
http://www.bbc.com/news/magazine-21145103
As you would guess this was for bank transactions and not public use. Similar to that sheet of Woodrow Wilson notes that the treasury shows at some of the ANA shows. I did find too that 2011 while doing my search that one of these notes, canceled, sold for £69,000 at a Noonam Webb auction. So doubt I will ever have one in my collection. There is a nice photo of Gregory Peck holding the prop for the movie on the Pam West website, see below, wonder what price that has fetched?
http://britishnotes.co.uk/news_and_info/features/millionpoundnote/index.php
The £1,000,000 Bank Note of course a short story by none other than a former editor of the Territorial Enterprise who worked in that legendary silver town of Virginia City. The city that supplied most of the silver that was coined into those wonderful Carson City dollars. Most know the author better as Mark Twain, but during his time in Virginia City he was just Samuel Clemens. If you are in that area seeing the mint in Carson City I would suggest taking a side trip to see the old Territorial Enterprise building which is still standing, along with the portrait in the silver dollar saloon.