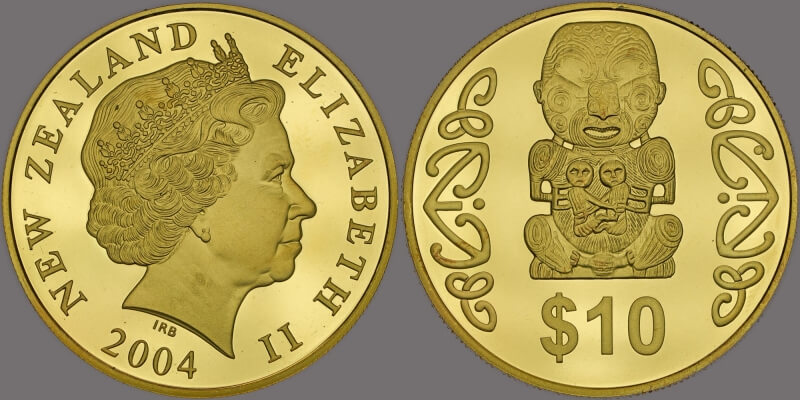 Encapsulation New Zealand style
I haven't posted a blog for a while. Over the last two months I have been researching and traveling. I visited my home country of New Zealand and liberated a small number of coins from a safety deposit box and brought them back to Vienna. One of the coins I brought back is a rarity and it was one of my early collecting years success stories.
In 2004, when the coin this blog is focused on was issued, I was regularly buying NCLT from New Zealand( New Zealand post). When I saw this coin and its method of encapsulation I had to have it.

The coin is a 40 gram silver dollar sized gold piece of 22 Kt gold. It is in a traditional Maori treasure box called a Wakahuia. When I received the advertisement for the coin I jumped at the chance to own such an unusual type of NCLT. I submitted my order with credit card details and waited and waited. What I and many other weren't aware of was NZ post had underestimated demand for the 300 coins( for an expensive NZ$1500 in 2004) on the official issue date they had had only had 150 struck and the wooden boxes were taking longer than anticipated. It took them nearly 4 further months to fulfill my order. The delay was such that I was almost going to cancel my order for the coin when I received the latest NZ catalog. That catalog had the coin valued at NZ$500.00 more than the issue price. Behind the production was negotiations with the Ngati Whakaue sub tribe to whom Pukaki, the person the carving represents, was a venerated ancestor. There is much more behind the story; but with indigenous peoples rights and the chance of offending through my ignorance I will not venture here to tell the full story as I understand it. What I can report is that 30 of the 300 coins were given to the tribe and a further 75(or so), unlikely to ever come to market again, were also purchased by tribe members. This of course means the coin will remain a rarity. It is certainly one I treasure. I prefer this form of encapsulation but I don't see PCGS or NGC adopting the method.