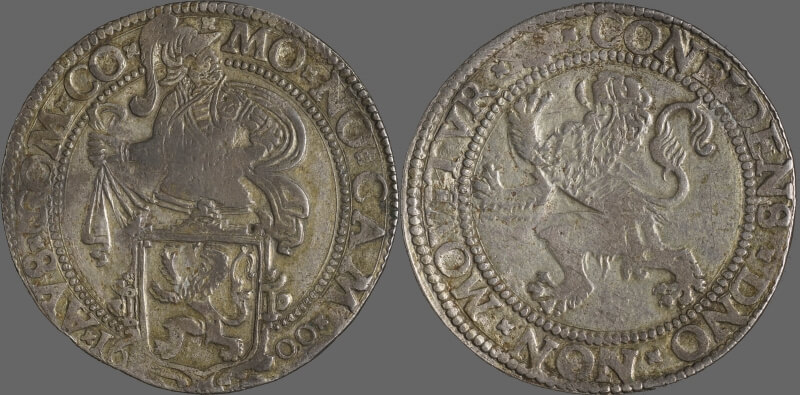 The costliest ugly coin in my collection
This entry  follows on from Coinsbygary's  blog entry of 11 Oct 2015 (Exception clauses in my collection).   I don't have many encapsulated coins in my collection  and I suspect my latest acquisition,the subject of this blog might struggle to be locked away in plastic "coin-prison" However for me it was the best I could afford  with a low four figure price.   Had it been a mint state example the price would be closer to five figures.  At this point I anticipate some of you are  taking another look at the photo. Yes it does look like a Dutch Lion thaler (leeuwendaalder).   But this 1600 example isn't dutch!
The Dutch introduced the lion thaler in 1575,  it has similar( not the same) design features to the Joachimsthaler guldengroschen  produced circa 1520. In my research I have found one reference that suggests the first coin to be called "Lion Thaler" was the Joachimsthal coin,  and another that assumes the dutch coin was a copy of the earlier coin.  The Dutch coin  became a key coin in international trade. Its importance was such that it became worthwhile for a number of Italian states to produce their own versions. As a general rule all the Italian imitations are  rare beasts ( that 4 figure price is probably making some sense now). 
My coin was produced in Correggio( in Italy)under the rule of Camillo D'Austria.  My understanding is the "Austria"  part of his name comes from his allegiance to the Austrian Habsburgs.   When I first  received the coin I was a bit horrified at its condition.   I had to soak it in acetone for a few days to remove the green film  of decayed PVC.  Even with PVC the coin was still worth it( for me).   I would like to say this coin is just a space filler, but it isn't. Its the best I could afford and that's where this post follows on from Coinsbygarys post. I would love to be strict and only buy perfect coins....but with  my interests perfect coins are out of reach financially.  Likewise there is the issue of rarity, I just don't know when I would see another example  as cheap as this one( and in the minimum grade I will tolerate) I am sure I could find cheaper  sometime in the next five years, but more than likely such a coin would be  so worn as to be mostly unreadable.