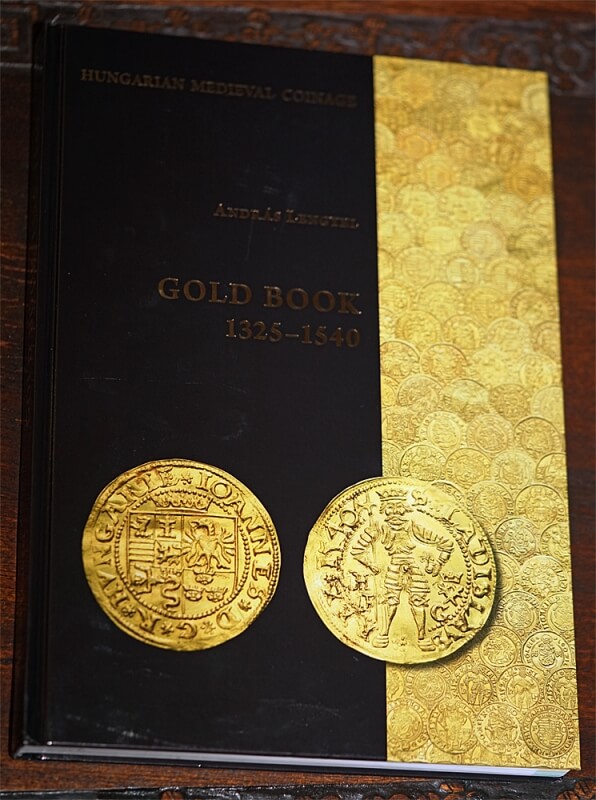 Three Books: US$350.00 and only one didn't disappoint
Note: In this blog I report that only one publication actually met my expectations it is that book that is pictured( it isn't a great picture)

I recall in a recent  edition of the numismatists reading a suggestion that the ANA set up an academic program for numismatics.  Its a long over due idea I think.  I live in one of the few countries that has a university with a numismatics department. As a result many of the local coin dealers employ numismatists who have Masters degrees and PHDs in numismatics, and the locally published books are of a very high standard.   My recent experience with "new" numismatic publications further re-enforces the idea that some form of  academic accreditation is needed.     I spent approximately US$350.00 ( rough exchange rate) on three books and only one meet my expectations.  

The book I am happy with  is "Hungarian Medieval Coinage; the gold book 1325 -1540"   ISBN 978-963-08-8377-1  published 2013.   Its a very good translation, by the Author ( Andreas Lengyel)  of a Hungarian Language book.   It cost €100.00(last week). Its an extremely solid reference. It gives a brief history of the coinage covered, includes a quick reference guide and then presents all known varieties of Hungarian Gold coins in the date range listed.   The cheapest indicative value is about €500.00  which is not surprising as it covers an extremely expensive and mostly rare series of coins. All the photos are high resolution color.  The book is extremely easy to use. Its a joy to own!   Its not surprising  the author is a well respected dealer who has spent years in the trade. He has written the book with  dealers and very deep pocketed customers in mind.   Given its price  and subject it isn't going to appeal to many. It is a book  that belongs in a Library.   All in all this book met and exceeded my expectations.    Something that I can not say about the next book:
Dariusz F. Jasek  "Gold Ducats of the Netherlands; Volume one" Published by Knight press. ISBN 978-83-940534-1-3  It cost a whopping great €150.00.  and was published in August this year.    The book had been recommended to me by  a Dutch numismatic book seller, who was actively involved in assisting with the distribution of the book.  Although it has an established printing house as a publisher  it is an author published book. This is where it has fallen down, as far as my needs go.   The Author is a collector and like all of us very enthusiastic..... but being enthusiastic  does make us good writers.   When I pay €150.00(US$160.00) I have very definite expectations about the quality of the information in the book.    This book, as I was told, has been inspired by the previous book, its the same size and is also hard covered. However when I put the books side by side it is clear this more expensive book is of a much lower quality binding.  Then there is the contents.  The catalog covers up to the beginning of the 19th century.  Its well put together  and easy to read.....but   where the book on Hungarian coins ends at a logical point( the Ottomans took over Hungary in 1741)  the ending of the Netherlands ducats book is annoying.   The Netherlands ducat is still being produced today. Yes I know there is a vol 2 planned, but I am guessing for another €150.00.....I am not a money cow!!     You may think that last comment is unfair...but now I need to tell you what I am really unhappy about. Before I got to the catalog of the ducats there were 80 pages of writing, writing that at times I struggled to understand the relevance of. On page 28  the title is  "History of the gold ducats"    followed by a sub title  "The coin for trade"    with  7 paragraphs.  Then there is a subtitle  "Debased coinage in pre-Provencial period"  followed by  6 paragraphs  which slowly started the drift away from the subject of the book.  The next section was on The penalties for striking debased coins that went on for 8 pages or so,  and didn't mention the ducat at all.   I actually was wondering how I had got to that point and had I missed some connecting paragraphs( I hadn't).  For me the book just got worse from there.    The book to me suffered from a disorganized dump of information. As I said the catalog is great  but  the first part of the book, just made me feel very annoyed that I had spent $163.00.   The book just didn't measure up to the quality I expected.      What this book needed was an editor who insisted the author link all his thoughts together.    I won't be buying volume 2.  If Volume 2 is like vol 1 then may be US$163.00  for the pair would be reasonable but $326.00 for the pair   no thank you!
The third book  Is Robert Gurney's  "Counterfeit  Portrait Eight-Reales" ISBN not listed in the book( At least I couldn't find it)    It cost roughly US$80.00 plus postage.   For the price  it wasn't too bad.  There has been a lot of work put into the book.  I would love to say  it met my expectations but  for me, the book raised more questions than it answered.    I am hard on books   I want to read one and have the information "fit into the landscape".   In this book key pieces of information didn't fit into the landscape I understand.  The book is on a tough subject and the author has put a lot of work into it...but for me  to answer the questions the book raises I have already had to go off and buy one book  (on Old Sheffield plate).   I  often do that but this is the first time that I found I had to buy another reference because of the lack  of "feel"  for the topic that the book gave me.   I hope there is  a revised edition, but if there is I will be previewing through my local library before I buy.   This  third book  like the second is self published.  

This leads me back to my opening comments.   As collectors we rely on references to guide us.....it is really important that  there is some academic scholarship behind those references.   the establishment of an Academic college program in numismatics would help set the standard, but until that happens we collectors need to becoming very discerning with the books  we buy. 

In Conclusion: The best book  of the three ( the book pictured)  is clearly produced by a professional  and it is a joy to own.  The book on the counterfeit reales is "OK  "    The book on the Netherlands ducats...well for me it may be a case of the "Ford Edsel effect"   meaning it may have been oversold to me...   for what it is it is  extremely expensive.