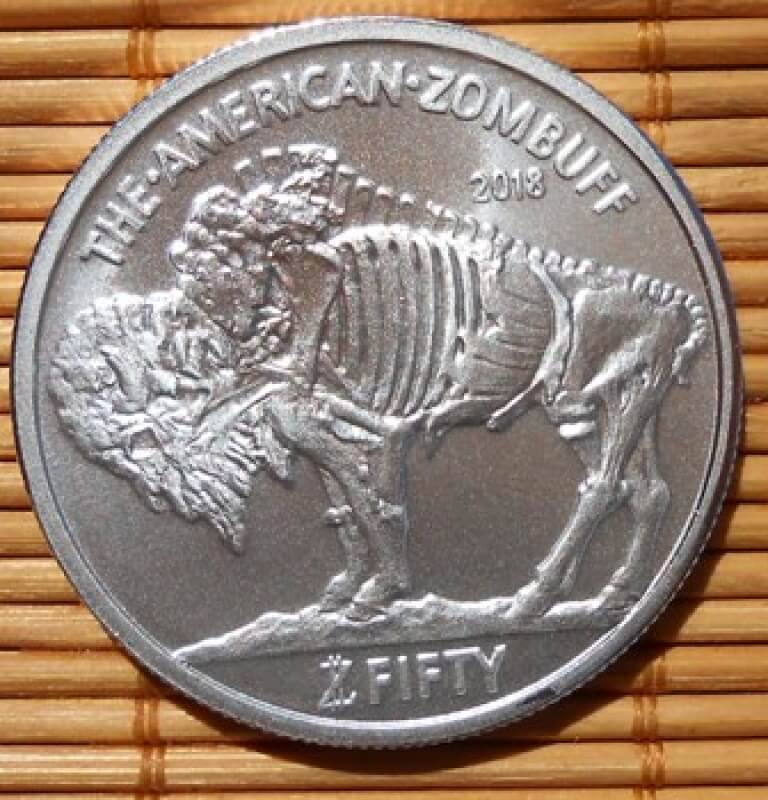 "BUFFALO NICKEL ZOMBUCK"...or money of the future???
The following description of this bullion coin pays homage to the Indian Head "Buffalo Nickel". As if humans turning into zombies wasn't bad enough, the living now have to worry about diseased animals. Black Diamond -- the 1,550 pound buffalo -- is the latest victim of the apocalypse and roams the planet on the 2018 American ZomBuff
This design celebrates the Indian Head Nickel that circulated from 1913-1938. James Earle Fraser created the coin by sketching Black Diamond at the Central Park Zoo, where he wooed crowds on a daily basis.
Now crowds of the able-bodied fear the massive monster as they endeavor to survive the apocalypse.
Black Diamond's mammoth physique has withered away. His hollow eyes, deteriorating flesh, ribs and bones protrude throughout his body on the obverse. Inscriptions include THE AMERICAN ZOMBUFF, Z FIFTY and 2018.

The reverse is the biohazard symbol to keep the survivors constantly warned of the dangers during the apocalypse. It is splattered with debris and includes inscriptions of ZOMBUCKS, CURRENCY OF THE APOCALYPSE and 1 OZ .999 FINE SILVER.