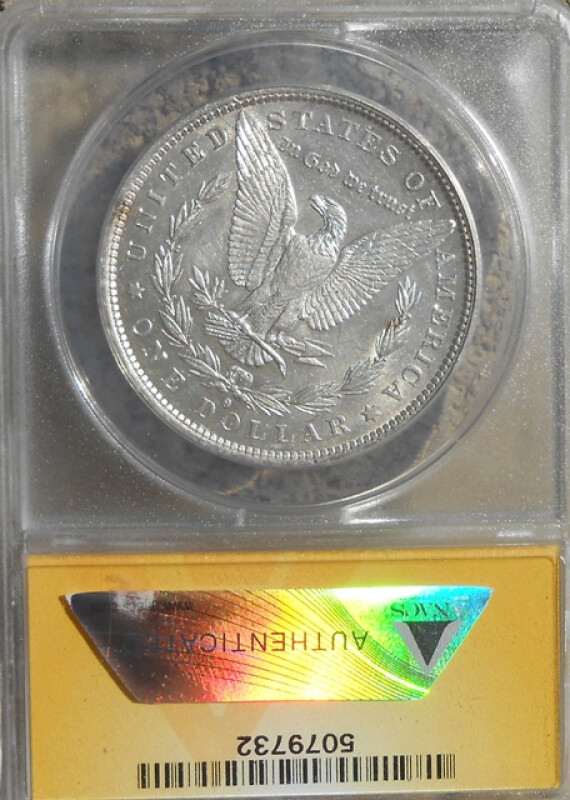 1882 O/S VAM-5 MORGAN SILVER DOLLAR
   This, my newest blog, is going to take a small turn. As many know I am working on collecting the Peace Dollar Top 50 and Elite 30 collections. This is different but almost the same. In the photos you will see my example of a Morgan Dollar Top 100 VAM-5. It is an 1882-O/S from the Oregon Collection graded AU 58 by ANACS. Even though I love Peace Dollars I also enjoy Morgan's and have a few. This one is special to me as it was gifted to me by the Oregon Collection Guy. Thanks Scott. He may have been trying to get me out of "The Dark Side" as Morgan collectors call us Peace Dollar guys.
   Much like my Peace Dollar Top 50, the Morgan Top 100 was introduced in 1996. It is simply an idea to try to re-focus collectors on what is considered the more significant VAM varieties and limit what is called "micro-vamming". It has been very successful and most people have heard of some of the favorites such as Hot Lips, Scarface, and the 1882 O/S.
   My particular specimen is graded, slabbed, and attributed by ANACS as an AU 58. The VAM-5 was discovered by Leroy Van Allen in December of 1965. On the obverse the 82 is doubled at the second 8 and the left side of the 2 in the date. There is a die chip on the left side and between the loops of the first 8. The 2 is the open variety. On the reverse the "O" mintmark is stamped over the original "S". The center shaft of the "S" is visible within the "O". There are also file marks on the inside of Liberties ear.
   In 1882 there are were three different dies prepared for use at the New Orleans mint that were original made for the San Francisco mint. This created the famous 1882 O/S varieties. There are actually three different VAMs of this over date: VAM-3, 4, and 5. Interestingly, the earlier die states, or EDS, are worth more than the late die states, LDS. This is because the EDS show less of the "S" crossbar than the LDS where the crossbar is much thicker. Usually the LDS are worth more, at least in the die cracks and breaks that I collect. The dies were used until they almost or did come apart. The more they were used the larger the breaks became.
   I hope you enjoy this small introduction into the Morgan Dollar VAM Top 100 and, perhaps, look into them in more detail. The Morgan Dollars are collected much more than my favorite type, Peace Dollars, and the hunt for VAMs can make it a much more detailed and obtainable goal to complete either type. Please check out the photos for a visual display of what I described above. Thanks!!
SOURCES:
VAMWORLD 2.0---http://ec2-13-58-222-16.us-east-2.compute.amazonaws.com/wiki/Home
Top 100 Morgan Dollar Varieties-The Vam Keys---Michael S. Fey, Ph.D and Jeff Oxman
Silver Dollars & Trade Dollars of the United States ---Q. David Bowers
Encyclopedia of Morgan & Peace Dollars—Leroy Van Allen & A. George Mallis