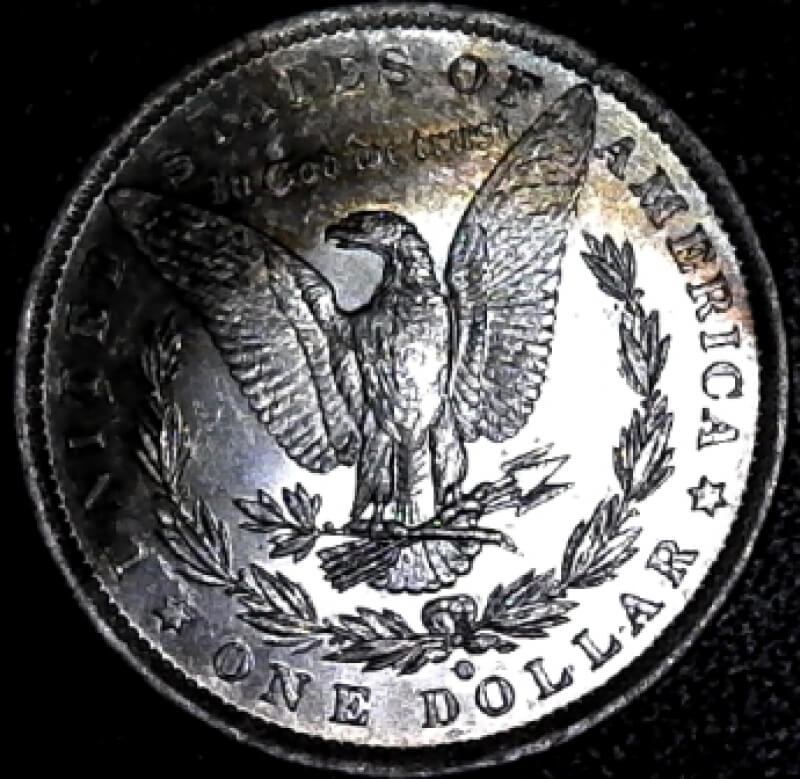 Today what I would like to be doing is standing in the air conditioned store of my coin dealer with a load of cash in my little hot hand and my wife/conscience not there to rein me in. That's not going to happen so I am going to show you all the last coin I purchased from him. Below is my 1883-O Morgan Dollar. It is rated as an MS 64. If the pictures show it, you can see it has an unusually strong strike on the reverse. The eagles breast is high with lots of feather definition. Not usually the case from the new Orleans mint. If you have been kind enough to have read some of my past blogs, you will now I am drawn to Peace and Morgan dollars with nice toning. The reverse of this specimen has red, gold and blue on it. It appears another coin was laying across it giving it the crescent moon look. A favorite of mine. The colors, mostly the blue, are starting to come across onto the obverse. Mostly present across the date and some of the lettering on top with the entire obverse has a light golden tone.
I bought this coin to fill a place in a great album I have. It's a Dansco #7172 Silver Dollar Date Set 1878-?. It doesn't have an end date because it covers Morgan, Peace, Ikes and 4 Susan B Anthony's. No idea why they included the SBA's as there is no silver in them. Besides the dates there is a spot for the different mints that made the coins. It's a nice fun album. Not to hard to fill up with any grades you like. Being just a date set makes it easy to stay away from those high priced coins with certain year and mint mark.
This year Morgan, 1883-O is one of the most common in Mint State. There was a total business strike of 8,725,000. It's estimated that 1-2 million were melted under the Pittman Act as well as other acts. An unknown number were melted in the late 1970's when the price of silver went high. There are no known hoards of these although the Treasury, in 1938 released bags to the public. Over 1,000,000 coins. They did the same thing in 1962-1964. All in all it's a nice affordable coin to most collectors. It does look nice in my album. One more hole down!!
Thanks for taking the time to read this blog and check out the photos. Most photos were taken by my wife/conscience!! Please feel free to leave a comment. Thanks again!
SOURCES:
A Buyers Guide to Silver Dollars and Trade Dollars of the United States by Q. David
Bowers Third Edition
2018 Red Book