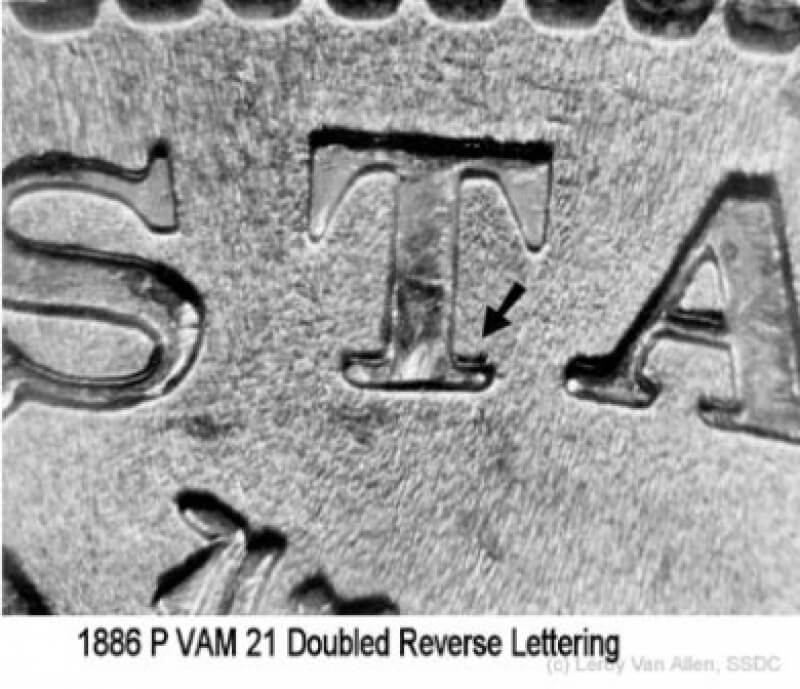 1886 VAM 21-TOP 100 GOUGE IN "M"
Below are photos of another Morgan dollar from my VAM collection. It is a 1986 VAM-21. It has some nice dark toning and is a Top-100 in the VAM community. This particular VAM can be seen with the naked eye, on nicer grades. This one needs the help of a loupe due to the toning. One of the things that make it a VAM is on the obverse, what used to be thought to be a gouge in the"M" in Morgan's signature. It was latter determined that the gouge is in fact a MPD, misplaced digit, the bottom of an "8". Additionally there is quite a bit of doubling on the reverse. This includes
doubled "TED OF AMERICA", "AR" and "IN GOD WE TRUST". Then is, at least, tripling of the "ST" in TRUST, as well as right star and right upper wreath leaves are doubled toward rim. As a side note, this VAM was originally designated a VAM-1. This was when the MPD was thought to be simply a die gouge in the "M" in Morgan.When it was later determined to be a misplaced "8" it was
reassigned
as a VAM-21. Just a little VAM history and loar. Things are always being checked and rechecked. This probably isn't the most beautiful Morgan,to most people, but I love it as it speaks to me. So much history and so much research. I hope you find it
pleasing
and learned a little more about VAM's. I look forward to your comments. Thanks for looking.
SOURCED: www.vamworld.com
COMPREHENSIVE CATALOG and ENCYCLOPEDIA of MORGAN and PEACE DOLLARS-by Leroy C. Van Allen & A. George Mallis-4th Edition 1991