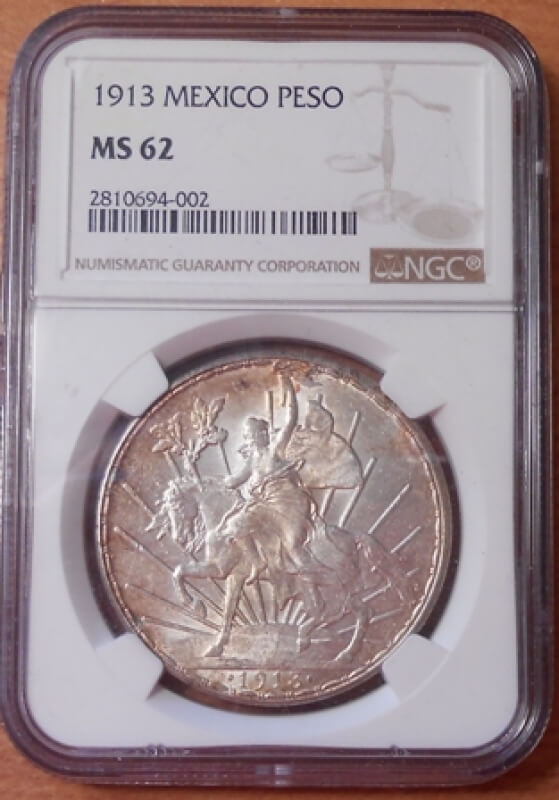 1913 MEXICAN PESO-BELLEZA MEXICANA-UN PESO CABALLITO
Here is my new example of a 1913 UN PESO CABALLITO! Also known as "The Little Horse Peso" or "Liberty on Horseback". If you enjoy Mexican coins you have probably heard of this one. A little on it's history. The coin was struck from 1910-1914. It commemorates Mexico's 100th Anniversary in its War for Independence from Spain! The coin weighs 27.07 g and has a diameter of 39 mm of .903 silver. The Caballito was designed by the world famous French medalist, sculptor and coin designer Charles Pillet. The Lady Liberty is riding her horse, side saddle, while holding up the torch of Freedom in front of a rising sun on the reverse. The obverse features the Mexican Eagle perched on a cactus with the snake in its' beak. The edge of the coin is incused with lettering that reads INDEPENDENCEIA Y LIBERTAD.
Just as the $20 Double Eagle by Augustus St. Gaudens is considered one of the USA's most beautiful coins, The Caballito is considered one of Mexico's most famous beauties! Having it in hand, I have to agree. This particular example has a nice rainbow toning going on! There are a number of varieties in this masterful short mintage. I leave these for the curious reader to look up and discover. Thank you for looking and your comments in the hopes that you appreciate the beauty and history of this treasure!
I encourage the reader to check out the other works of Charles Pillets!
Sources:
MEXICAN BEAUTY/BELLEZA MECICANA Un Peso Caballito by Allan Schein
MEXICAN MONEY Volume 1 by Don and Lois Bailey
https://en.numista.com