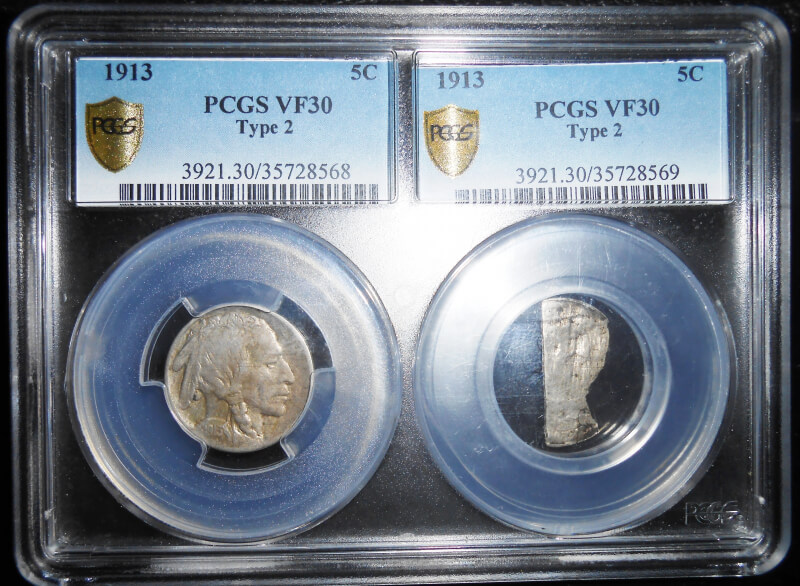 1913 TYPE 2 BUFFALO NICKEL LAMINATION ERROR
      First off I want to say I do not own this coin, yet, at coin store for sale.. I have always been intrigued by lamination problem coins. This one, at my coin dealer's store, is the best example I have ever seen. It happens to be a 1913 Buffalo Nickel Type 2 in an NGC holder. Even the slab is cool.
   Lamination errors can occur when impurities or contaminates are in the alloys that make up a planchet. Another way this can happen is when air or gasses enter the metal as it is rolled out into a strip in the coining process. When this happens the coin can crack or even flake at this weak area. It can happen before or after the strike. This event is actual a delamination of the metal but we use the lamination error term.  Sometimes the crack can simply lift up.
   In this case the coin delaminated completely. One weak part separated completely from the rest of the coin. Somehow this two part coin was noticed and saved. It may even have been sent into NGC as a complete coin and separated during the grading or slabbing process. In a display of genius, NGC took the two pieces of coin and slabbed them in a two opening slab. It makes for a brilliant display.
   On one side of the slab is the large part of the buffalo. The other side holds the delaminated piece. One is able to see the entire coin at a glance and flip it over to see the other surfaces. It is amazing to see how far the strike went into the coin. This is possible to look into the body of the coin since it split off. I am left wondering when this coin came apart. Either way I thought it is amazing and wanted to share with the readers. PCGS links
       https://www.pcgs.com/cert/35728569
      https://www.pcgs.com/cert/35728568
   Please check out the photos. Feel free to comment. Thanks for reading.
SOURCES:
Cointalk.com
Error-ref.com
Coneceonline.org
Unique Coin and Currency, Palm Springs, CA
PCGS