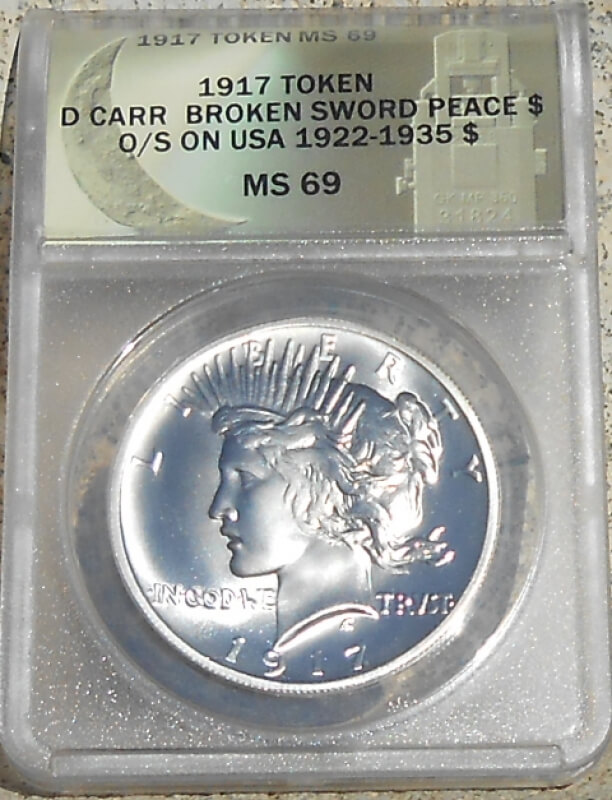 1917 BROKEN SWORD PEACE DOLLAR
  My next blog has been known to cause controversy in other venues, i.e. NGC blogs. Not only controversy but some people get downright angry. Let's see how it goes here. Below you will see my example of a Dan Carr Token. This particular specimen is a 1917 Peace Dollar with the original design from artist/sculptor Anthony De Francisci. It is in the original high relief as well as the "broken sword" reverse. There are a couple of facts that I need to discuss now.
   First off, as many of you know, the Peace Dollar was designed as a high relief coin. This only lasted part of the first year of strike, 1921. A couple of the main problems with the high relief strike was they would not stack on one another. This made it a problem for the banks. Also this design led to very short die life. The coin was to symbolize peace after our struggle in WWI. Many people, at the time felt the broken sword, to them, depicted defeat. At first the word PEACE was added as well as some other minor details. At least one bronze cast was made of both sides of this design.
   Not being enough to satisfy the powers that be, and without De Francisci's knowledge, the broken sword was completely remove by George Morgan. He filled in the area and engraved some minor details to the hub. A master die and hub were made from his revisions. Since all these changes were making the release of the new coin running late a new run of 1921 Morgan Dollars were also released that year, 1921. The new Peace Dollar went on to be made form 1921-1935.
   As time went on the first bronze cast of the first "broken sword" 1921 design was lost. In 2016 Daniel Carr bought this casting from a "picker" that discovered it at a garage sale. A 3D High Resolution scan was done and a digital reduction process was used to create the 1917 "fantasy-date" overstrikes. This process led to the new tokens to have a high relief that is twice that of the original 1921 high relief Peace Dollar released by the US Mint.
   You may be wondering how Mr. Carr and his company Moonlight Mint gets away with legally striking these pieces without the word COPY struck on them. The lawyers have maintained and the government agrees, so far, that the coins are over-struck on regular US Mint coins, resulting in impossible and/or fantasy dates or types. This particular coin was made between January 2017-2019 and struck original Peace Dollars. Simply put all these fantasy date coins were made using original Peace Dollars as the planchetes and stamped with dates and designs never made by the US Mint.
   My coin is grade by ANACS and classified as an MS 69 TOKEN. The luster and deep, deep strike of this coin is exceptional. It is a true miracle to be able to own a "new" example of a Peace Dollar in the artist/designers original idea. Thanks for reading this and please feel free to comment. Enjoy the photos. Believe me they don't come close to showing the beauty of this token/coin.
SOURCES
MoonlightMint.com
dc-coin.com
ANACS
Society of Silver Dollar Collectors--SSDC