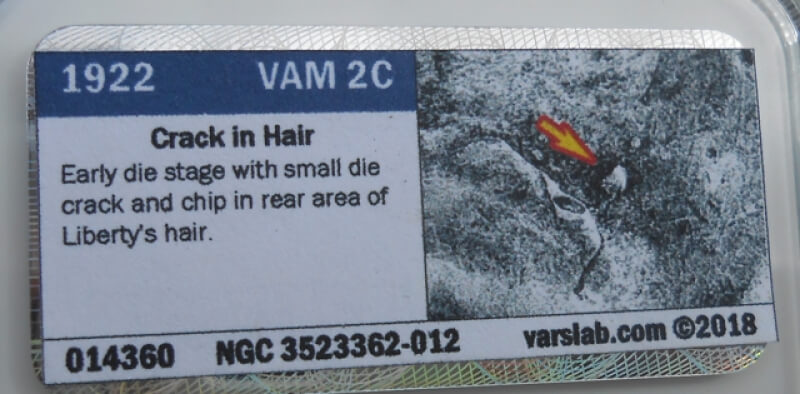 I was lucky enough, the other day, to be browsing my favorite VAM web site. I was looking at the peace Dollar's for sale and ran across this one. It is a 1922 Peace VAM 2C. It was a very good price so I made an offer and it was in the mail the next day. I know I have put quite a few VAM's up here but this is a new learning opportunity. First the '22 VAM 2C is in what is called the Top 50. That basically means they are nice ones to collect and the thing that makes them a VAM is visible with the naked eye, mostly.
The1922 2C means it has a curved die break at the back of Miss Liberty's hair. Sometimes it is called the Extra Hair VAM. You may notice it is difficult to see the break in this piece. That is because it is a "Early Die State", EDS. As the die is used it continues to break and becomes much easier to see. This is then a LDS or "Later Die State". As it continues to explode it will eventually become a VAM 2C2. The next step is all on the ground.
I have added some photos to demonstrate what I am trying to get across. You will also notice that NGC neglected to list the VAM designation on the label. That is because NGC didn't notice it or they were not labeling this designation. They didn't used to do many. That's why so many are in ANACS slabs. There is a small label on the reverse side from a company that will designate, photograph and label with a description, your VAMs. They are called Varslab.com. This coin has been labeled and described as "Crack in hair. Early die stage with small die crack and chip in areas of Liberties hair."
I am hoping to one day get an example of the other two die states. They are not real rare. My example is an AU 50. It's pretty affordable for a VAM guy. We are not too smart. Look at what we do. I also was attracted to the nice deep smooth toning. Peace dollars are not known for great toning, usually. That's it. Please check out the photos. I hope you enjoyed the blog. Feel free to comment. Thanks!
SOURCES
SSDC.com
Variety Slabbing Company
http://ec2-13-58-222-16.us-east-2.compute.amazonaws.com/wiki/Home VAMWORLD2.0