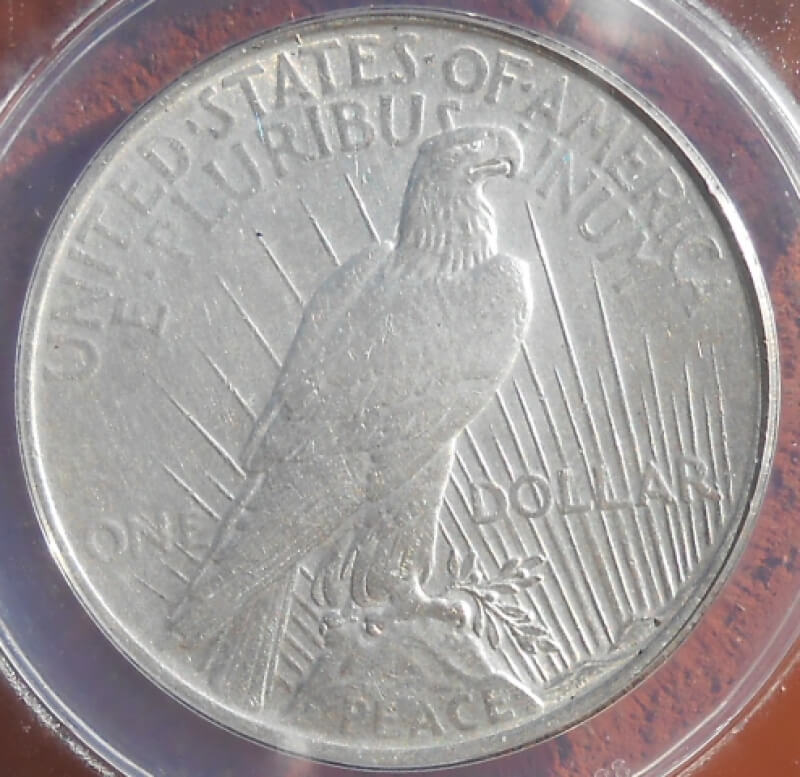 1922 VAM 2A- EAR RING-TOP 50 JEWEL!
   The other day I gave up waiting and pulled the trigger on one of the "Crown Jewels" to the Top 50 Peace Dollar VAMs. This would be the 1922-P VAM 2A. Often referred to as the Ear Ring variety. It gets its name from the shape and location of a major obverse die break. As you can see in the photos, it is located near Liberty's ear and is dangling down her neck.
   Since this is the largest die break in the Peace Dollar series of coins it is always in high demand. This results in higher than average prices. These premiums are so high that I chose to buy this ANACS Cleaned AU 58 grade coin. Even then it was a bit pricey, at least to me. Now I have no problem buying a "problem" coin if the situation warrants it and the coin still looks nice. I feel that is the case here. To be honest, a non-details coin in this grade would wipe out my coin budget for some time.
   My specimen still has a nice luster that leads me to think it was cleaned quite a while ago. Back then, cleaning was considered an appropriate method to make a blast white, silver, coin that was all the rage. Now, as we know, this is not the case. A cleaning can ruin the collectability of any coin.
   Now onto the variety itself. The 1922-P VAM 2A was first discovered by Allen Ziegler in March 1966. As with most VAMs there is an evident progression in the die break as time and die usage goes on. The EDS or early die states, exhibit a string of four connected lumps of raised metal, silver, on the coins surface. Later die states, LDS, show the increase in the size of the break. This leads to the eventual largest die break in the series. Normally the dies would continue to be used till they came apart, as was common in 1922 and 1923. This does not seem to be the case here since there are no other die cracks.
   I hope you enjoyed this short blog. Please check out the photos below and feel free to comment. Thank you all!
SOURCES:
VAMWorld 2.0
The Comprehensive Catalog and Encyclopedia of  Morgan and Peace Dollars: Leroy C. Van Allan and  A. George Mallis
The Top 50 Peace Dollar Varieties: Jeff Oxman and Dr. David Close