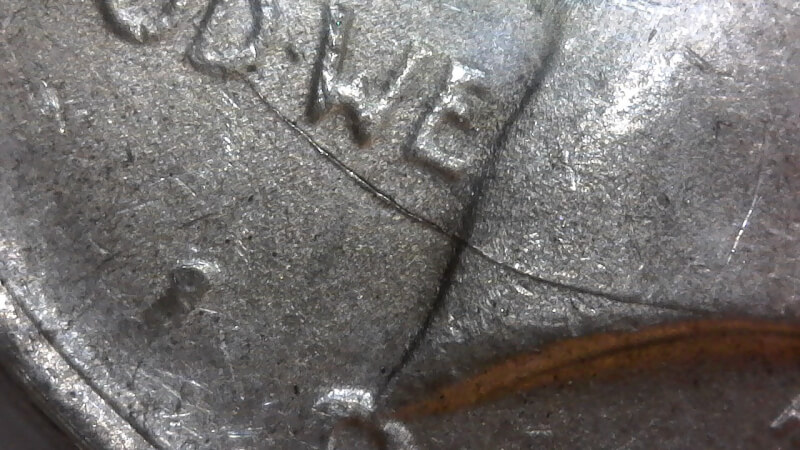 1922 VAM-2E2--WING BREAK--TOP 50 PEACE DOLLAR
   The latest pick up I bought at the Las Vegas coin show, a few weeks ago, is a 1922 Peace Dollar VAM-2E2 called a "Wing Break". It is a member of the Top 50. I am trying for the entire Top 50 set as the variety features can usually be seen with your naked eye. This particular specimen was graded, slabbed, and attributed by ANACS. They are a very popular TPG for VAMs as they list a great many more VAM's than the other two major graders. It made an AU 55 grade, which seems a bit conservative to me. There is still quite a bit of mint luster and very little wear. Oh well, that's the way it goes. I usually am not too concerned about the grade assigned as much as the VAM designation.
   The '22 VAM 2E2 was discovered in April of 2010. It was originally assigned a number of 2E but later changed to the 2E2 when a 2E1 was discovered. A little confusing but as one studies these it becomes clearer. The 2E2 features a shallow vertical die gouge between the 1 and 9 of the date on the obverse. The reverse has the namesake die break on the eagle's wing in about the middle left side. This break appears as a lump of metal. It also gets larger as the die is continued to be used and grows larger and larger. One must remember these were just money when they were made. Little concern was given to the small breaks and gouges as long as the dies used stayed together. The dies were used much longer than they are today.
   Another attribution is on the obverse. It is a strong die break that starts at the "D" of GOD, goes across the base of Liberties neck, and then ends at the left corner of the top of the crossbar of the "T" in TRUST. On the reverse is a clash with a notable, yet common, clash mark on the eagles shoulder. This feature is commonly called a "Spiked Shoulder" clash. All these things help identify the hub pairs used to produce this coin. In this case the hubs used are: obverse II-I and reverse B2a. This variety has an interest level of I-3 meaning it is a significant variety with quite a bit of 1interest to collectors like me. The rarity is R-6, very rare (several hundred).
   I hope that you enjoyed this blog and learned something. I did make this blog a bit more technical in the hopes of inciting interest in VAMs and perhaps some further research done by the reader. Please feel free to comment. Thanks for looking.
SOURCES:
VAMWORLD 2.0---http://ec2-13-58-222-16.us-east-2.compute.amazonaws.com/wiki/Home
THE OFFICIAL GUIDE TO THE TOP 50 PEACE DOLLAR VARIETIS- Jeff Oxman & Dr. David Close
THE SOCIETY OF SILVER DOLLAR COLLECTORS-SSDC