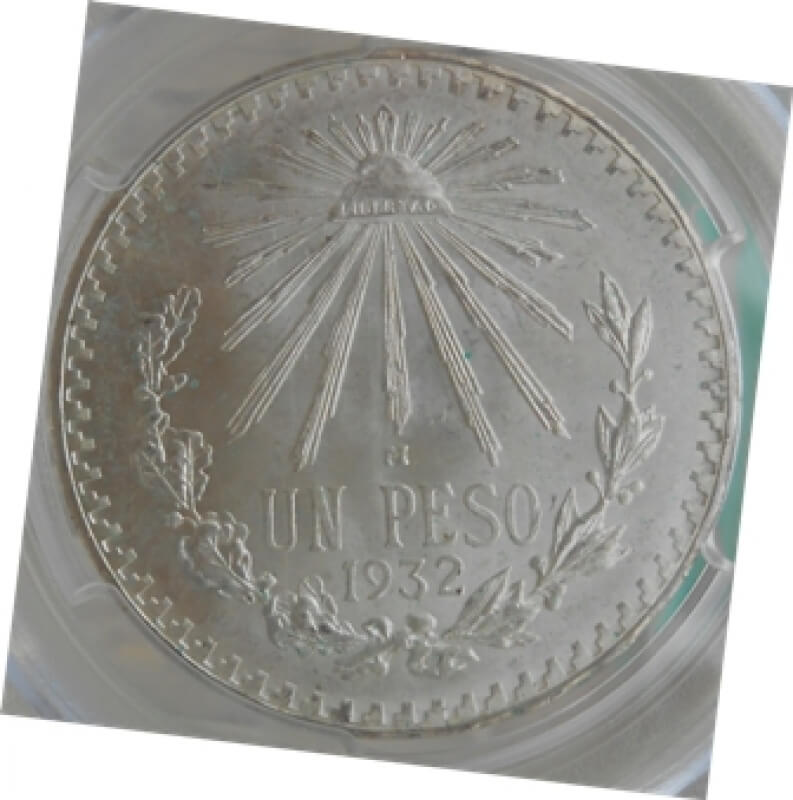 1932 "M" UN PESO CAP AND RAYS SILVER
I'm going to take a break from my Civil War collection and show you a coin from one of my other interests, old Mexican Silver coins. This blog also kind of ties in with Mike's blog of May 15th. On improperly cleaned coins. Below I have an example of a 1932 silver Un Peso. It has a "M' mintmark meaning it was made at the Mexico City mint. This coin falls into what is called the Cap and Rays variety. This variety is one of my favorites. As you can see the coin was graded by PCGS as Genuine with Surface Damage. The damage is on the obverse with a gouge above the snakes head and through the word Unidos. This caused the coin to sell below melt. Personally, I don't see much difference between this and a Morgan with heavy coin contact marks on it. Just me. The coin has plenty of original mint luster on it. Someone took good care of it except for that gouge. It's a personal choice of whether you can live with a "damaged" coin or not. Now to the coin design. The obverse has the Mexican national coat of arms above a spray of oak and laurel with the legend ESTADOS UNIDOS MEXICANOS near the top. Translated United States of Mexico. Divided by the eagles head is the silver purity, 0.7 and 20. The reverse is an open oak and laurel wreath below with the date 1932 above, then UN PESO then the mintmark "M". Above all that is the Cap with LIBERTAD written on it and all the rays. Across the edge is the lettering INDEPENDENCIA Y LIBERTAD meaning Independence and Liberty. The coin is a nice 34 mm and weighs 16.6 grams. This one peso coin is known as a type 3. There are two varieties in this date. The open or closed 9. This one being a open 9. It has a KM number of 455. I hope you enjoy this piece of Mexican history. Please feel free to comment. Thanks for your time!
P.S... PCGS did a nice job of centering the coin didn't they. It's not like we pay them.. Oh well!!
SOURCED:
Whitman Encyclopedia of Mexican Money Vol. 1 by Don and Louis Bailey-2014