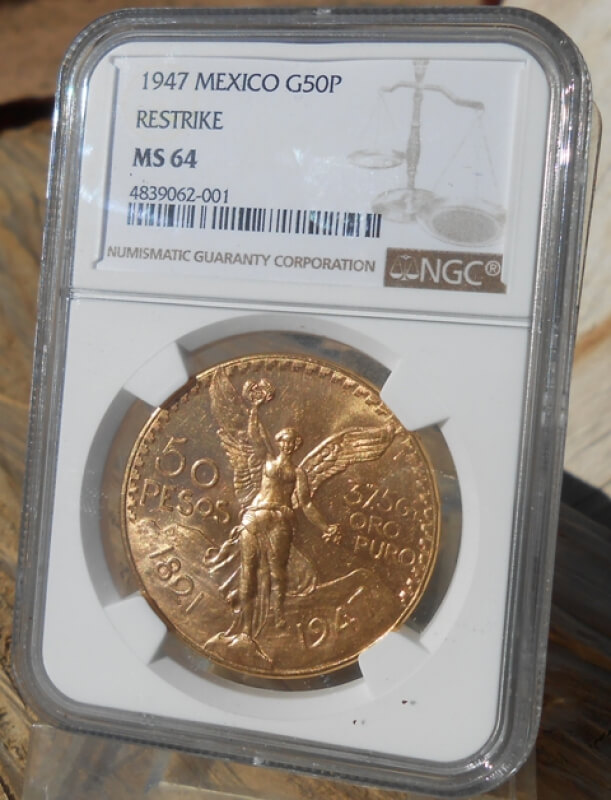 1947 GOLD MEXICAN 50 PESO UPDATE
On December 30, 2018 I wrote a blog on my raw 1947 Mexican gold 50 peso coin. I wrote that it is a solid 1947 not one of the many restrikes. Well, as you can guess, I may be incorrect. I base this on an inquiry I made to NGC. I sent my coin in for grading and to be slabed. It was returned to me as a beautiful MS 64. I am very happy with the grade and fast service. However, it also said RESTRIKE on the label. I had to find out what the deal was so I called NGC to find out.
The nice lady at customer service did not have an answer for me. She promised to ask the grader on MY coin and get back to me. This she did, the same day. I will include a copy of the email but basically it says all 1947 dated 50 peso coins are labeled RESTRIKE as there is no way to tell them apart from non-restrikes. I was O.K. with this till I started thinking about it.
To me, and I could be wrong, this seems unfair. NGC, and I assume PCGS, can't tell the difference in a series of coins so all coins in the series are, I'll say punished. To be fair there is no difference in price for me. Some coins are labeled LATER RESTRIKE meaning they are definitely from a more current date. Those probably do suffer in price. Too bad it's a secret how I can tell the difference. Everything I have read about this series and it's been a lot, says one cannot tell the difference. This excludes some that have a matte like finish. Maybe I am just on a rant. It's been known to happen to me.
I do love my coin and its grade. I just don't think I or we should suffer from a grading company's problem. They could at least make us aware of their procedure. What do you think? Please check out the photos and the email. More photos are on the original blog. Also please comment your opinion. Thanks for your time.
Hi John,
I have heard back from our graders on this coin. They advise that you are correct, there is no way to tell an original 1947 from a restrike. As such, we label all 1947 50 pesos as restrikes, similar to some 1955 dated Mexican gold issues. I believe PCGS has the same policy. There are some extremely modern restrikes of the 1947 50 pesos that we call modern restrike, but these have a completely different almost matte-proof surface to them.
Hopefully that helps clarify things for you! If you have any other questions, please let me know. Thank you!
NGC Customer Service | Numismatic Guaranty Corporationp. 1-800-642-2646 x241 | f. 941-360-2553
NGCcoin.com
SOURCED:
NGC