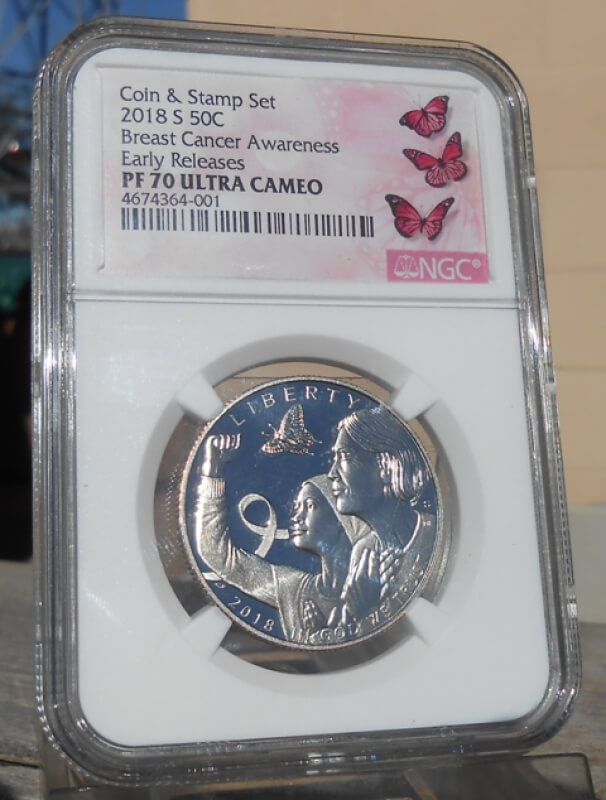 2018 BREAST CANCER AWARENESS COIN AND STAMP SET #1
I strayed from my usual collections on this blog. While looking at the mints upcoming offerings I ran into this unique set. It is the Breast Cancer Awareness Coin and Stamp Set. A new idea for our mint in that the coin comes with a regular issue USA stamp. I am not sure why but this set spoke to me. I'm not a huge fan of modern commemoratives, especially clad, but I wanted it. Since I bought it I decided to take advantage of the special offer NGC had for this set. They would grade and slab the coin and stamp as a set. This is the first time they have done stamps in the USA. The stamp is graded under their ASG arm of the company. Every other stamp has been done out of their Singapore office. So this is a first for them.
The stamp part is so new and I was unhappy with the grade that when I called to find out how and what the grade means, no one knew. They did get back the following day with a chart explaining how it is done. I have included it below for others. The stamp was designed by Ethel Kessler and is an illustration of Whitney Sherman's "goddess of the hunt". It features the phrase "FUND THE FIGHT" and "FIND THE CURE". It is a non-denominational first class stamp from 2014. To learn why this painting was chosen, I recommend the reader research the mythology behind the goddess of the hunt. It is very interesting and the mint's choice will make much more sense.
The coin itself is a clad half dollar with a proof finish. I say I'm not a big fan of clad but this coin may change my mind. I have to read CoinLady's book now. One of the nice things the mint did is have an open design competition. Emily Damstra was the winner. The actual sculpting was done by Phebe Hemphill and the reverse by Renata Gordon.
The obverse shows two women, one older and one younger. The older woman has her hands clasped to her chest with a expression of relief on her face. The younger woman has a scarf on her head. One hand is on her chest and her other hand is raised in a classic ready to fight stance. It is inscribed "LIBERTY", "2018" and "IN GOD WE TRUST".
The reverse shows a Tiger Swallowtail butterfly in flight in a symbol of hope. Inscribed is "UNITED STATES OF AMERICA", "HALF DOLLAR", "E PLURIBUS UNUM" and "BREAST CANCER AWARENESS".
As in all commemoratives, a surcharge from the coins sales will be paid out to, in this case, The Breast Cancer research Foundation. On a personal note, even thought the mintage is set at only 750,000, sales are terrible. At the time I received my coin set back from NGC, there were only 7 others submitted. Four PF 69 and four PF70. That's it. It is also still available at the mint till December 27. Hopefully many more people bought the set and didn't send them in for grading. I have mixed feeling for buying the set so I am sending in money directly to Saint Judes and Shriners Childrens Hospital for Cancer Research. I don't think enough coins will sell for the surcharge check to happen.
Thanks for your time and I hope you enjoyed this blog. Below is the grading scale ASG, American Stamp Guaranty, uses for stamps.
SOURCES: NGC, PCGS and The US MINT
P.S. I was forced to add a second blog to show the stamp grading rules. It became too large for the ANA site. A problem they seem to be having lately.