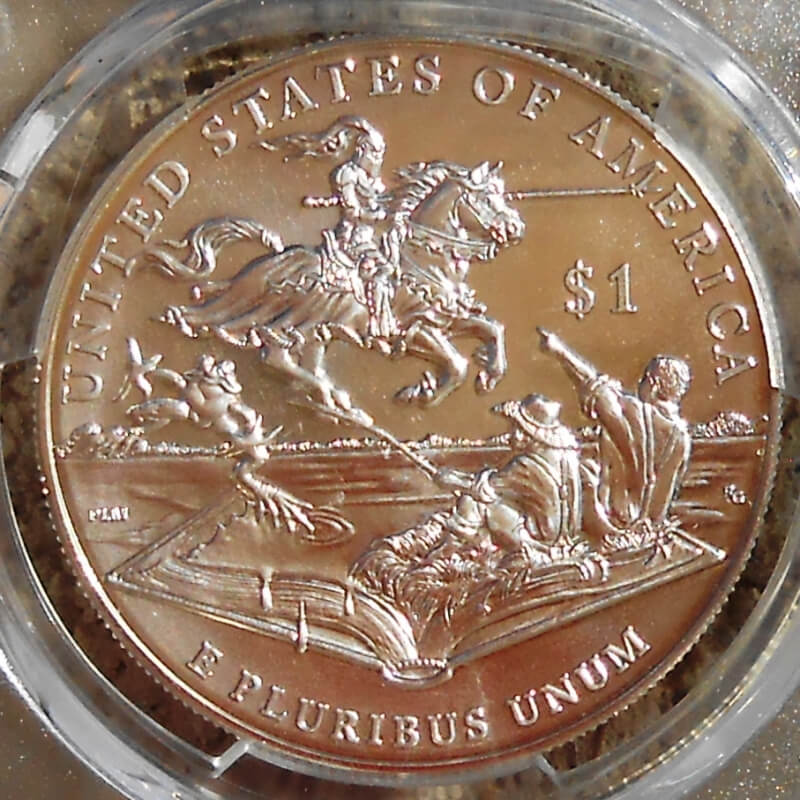 So the other day, before Christmas, my wife Kepi and I went to see our coin dealer. I had to "secretly" pick up a coin he had for me. This was going to be her last Buffalo nickel for her Dansco album. The trade off of money for coin went off famously. She didn't see a think. While there I happened to see two 2016-P Mark Twain coins in PCGS slabs. Samuel Clemens, Mark Twain, is a huge hero of mine. He is right up at there at second from the top, almost as much as Nicola Tesla.
   For some reason I didn't buy one of these Modern Commemoratives in 2016. No idea what happened but I missed them. Well I called Kepi over to check them out with me. There was a proof and a MS. The minted made around three times the amount of proofs as Mint State. Most people apparently go for the proof. I have always been a mint state guy though. Well nothing came of it in the store and we left with my secret purchase and a great Christmas gift from the store.
   I forgot all about it and had a great Christmas with Kepi and our dogs. She loved her buffalo. Well we got to my last present and to my surprise she gave me that Mint State Mark Twain Commemorative. Talk about sneaky. I had no idea. Here is a little bit about the coin itself.
   The obverse shows a portrait of Mark Twain with his classic smirk. He is smoking a pipe and the smoke from his pipe forms a silhouette of two of his most famous characters, Huckleberry Finn and Jim on a raft. It also features the words "LIBERTY", "IN GOD WE TRUST", THE DATE "2016', AND THE MINTMARK "P".
   The reverse of this coin carries on the theme. It features an opened book in which some of Mark Twain's story characters ore coming to life. In the center is an image of a knight on horseback from "A Connecticut Yankee in King Authors Court". To the left is the frog from "The Celebrated Frog of Calaveras County", Huck and Jim from "The Adventures of Huckleberry Finn". It is lettered with "UNITED STATES OF AMERICA", "E PLURABUS UNUM", and the denomination "$1". The coin weighs 26.73 g of 90% silver and is 38.1 mm with a KM #622. It is in a PCGS Shield Slab that lists it as a Mark Twain Label. I guess that is in case you don't notice the design. It is graded as an MS 69.
   This fantastic coin was a complete surprise. Well played Kepi and Mark at our coin dealer. That is what happens when one tries to get one up on ones wife. I hope you enjoy this little Christmas story. Check out the photos and feel free to comment.
SOURCES:
PCGS
EN.NUMISTA.COM
MODERNCOMMEMORATIVES.COM