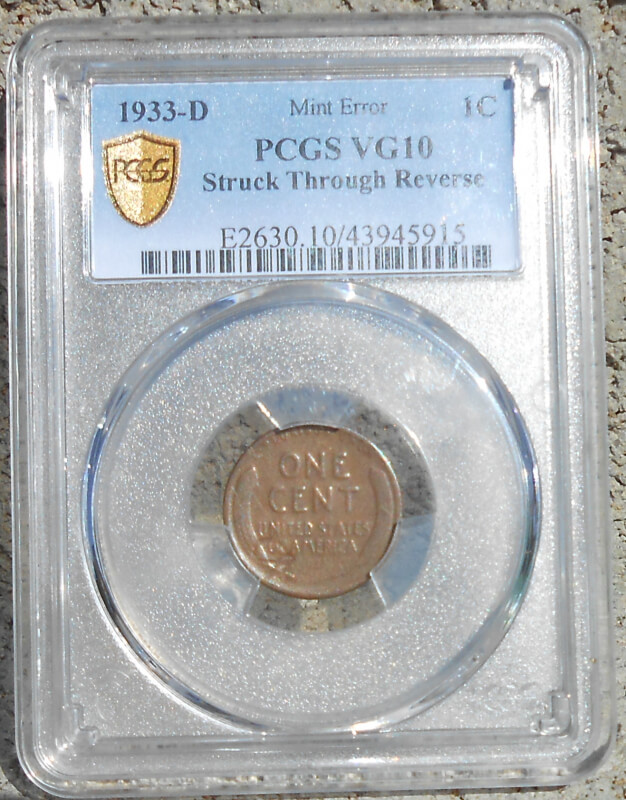 So since it is another slow Saturday I thought I would give everyone a fun lesson. First off I am well aware of the chance I took. I just never thought it would happen on this coin. A few weeks ago I was browsing Heritage.com just to see what the market is doing. A fun thing I do. This particular auction was all error coins. I like to get a few from time to time. Nothing like Haney but I have fun. If I didn't already have my Peace Dollar VAMs, MPC, Mexican Type, and POW chits I would likely hit it harder.
   So I see this humble little 1933-D Lincoln cent with a Struck through Reverse. Nothing to knock my socks off but I do like struck through coins. I dropped my maximum bid on it just to let them know I'm still around.. One dollar US money. I promptly forgot all about it. A few weeks later my wife tells me I won an auction. What? I have no bids. Oh yes you do. I couldn't believe it. No one else in the world out bid one dollar. It is a nice struck through.
   Here comes the funny part. I go online to settle up with Heritage. My one dollar bid with vig, "buyers premium", is now $30.00! They have a $29 minimum vig. I know that. Next is Service and Handling for $8.37. Let's not forget sales tax, $2.95. I had a total bill of $41.35 on my $1….
   I just thought everyone could use a little laugh on my account. The last time I did something like this I ended up with two 1909-S VDB cents. Yep two. Good thing they were mid grade but still an eye opener. Be aware of what can happen. It most likely will. If you think I learned my lesson you are sadly wrong. Just ask my wife.
   Thanks for looking. Feel free to blast me I mean leave comments.
Sources:
Ha.com
PCGS.com