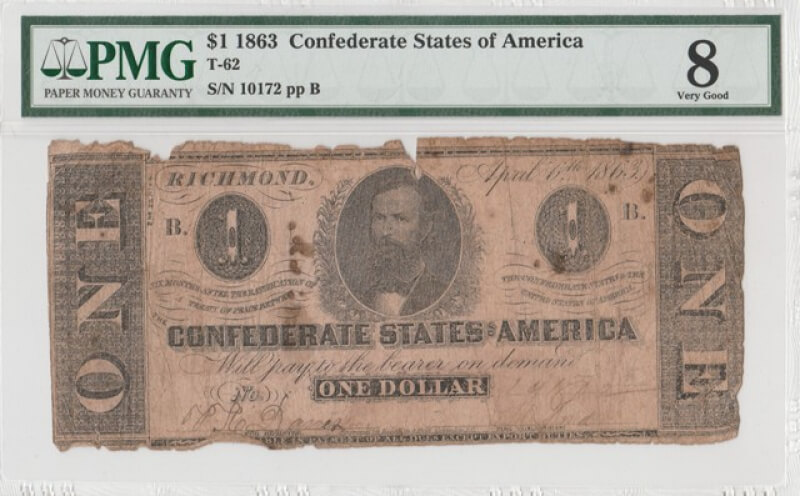 AN HONEST WEAR AND TEAR CONFEDERATE NOTE
   This blog is about another of my Civil War bank notes. This one is a Type 62 or as they are also called a T-62. Although this one dollar bill is graded a modest VG 8 by PMG, I love it. It has a ton of wear. Used by a lot of people during a very dark period of our history. This note is from the Sixth Issue. That is an act of the Confederate government, that on March 23, 1863 authorizes the $50,000,000 be printed monthly from April 1863 to January 1864. This resulted in T-56 to T-63 notes. All the notes are dated April 6, 1863. All the notes printed as "Payable two years after a peace treaty. T-61-63 notes are marked payable 6 months after a peace treaty.
   All these notes were engraved by Keatings & Ball of Columbia, South Carolina. They were the Confederacy's engravers of all denominations from $1-$100. They were also the only printers of the $50 and $100 notes. This note was printed by Evans & Cogswell. They printed the $1 to $20 notes along with J.T. Paterson and Blanton Duncan. This note has a mintage of 1,645,600.
The front of the note features a vignette of Clement C. Clay. He was a Confederate Senator for Alabama. The two signatures are real not printed. Mine has a serial number of 10172. It also has a ton of honest tears and wear. It originally was printed on plain pink paper that is now faded.  
   The reverse is blank as all the T-61 through T-63 are blank. The war was going badly for the Confederacy at this time. The pressures were being felt by the civilian population. The shortage of every day consumer goods drove up prices and led to inflation. It was thought that there was no need for a reverse printing to help cut costs.
   This note is from the 2nd Series. This is evident as there is no printers name on it as well as being printed on the note. The note is a PF-1, Criswell # 474. These are numbers used to denote the different types. Two of the "tells" are the periods on the right side of both plate position. In this case "B" as well as the "B" being a normal style of print and not hollow. All this gives it a Rarity of 3, or very common. The plate position letter or number denotes where on the same sheet it lies with the same serial number.
Please check out the photos below. Feel free to comment and thanks for looking.
SOURCES:
CONFEDERAT NUMISTA---By PETER Bertram---2016
COLLECTING CONFEDERATE PAPER MONEY---FIELD EDITION-20018---By PIERRE FRICKE