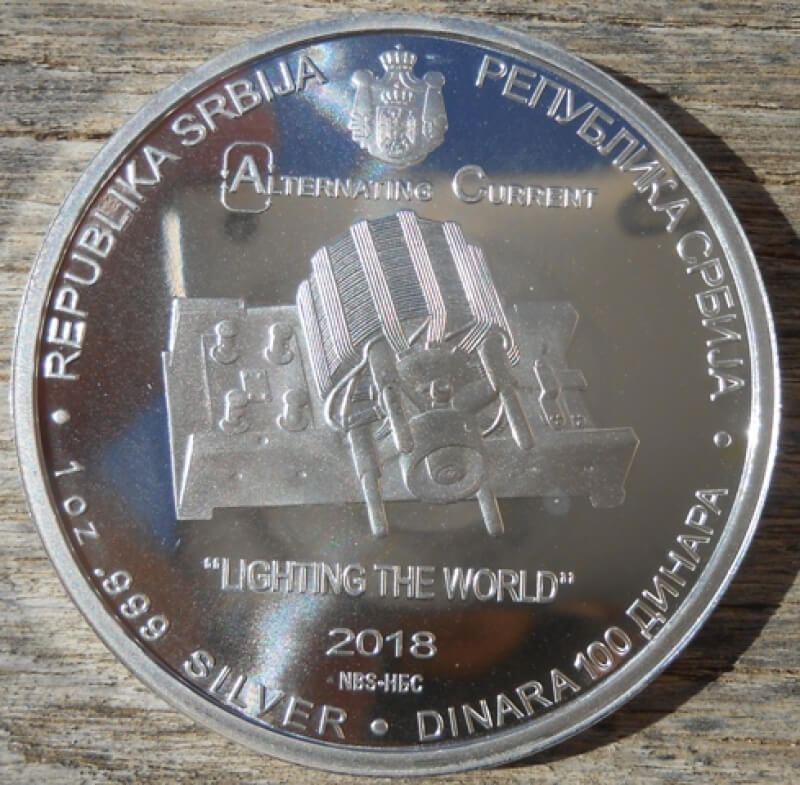 NIKOLA TESLA-HUMAN GENIUS OR ALIEN?
This new blog is on, probably, my greatest hero outside of my immediate family, Nikola Tesla. The coin is one ounce .999 fine silver minted in the Serbian Mint for 2018. It has a 39.0 mm diameter. It has a value of 100 Serbian dinara. The total mintage is only 50,000.
Featured on the obverse is a portrait of the inventor at the approximate age of 40.His name is above him. It is inscribed in both English and Serbian Cyrillic. Under his portrait is the legend "ELECTRICAL VISIONARY", then a lightning bolt. Below that is inscribed "POWERING THE FUTURE".
Centered in the middle is a picture of Tesla's induction motor, with the Serbian Coat of Arms top center. Below that is inscribed "ALTERNATING CURRENT" above and "LIGHTING THE WORLD" and "2018" below. Also inscribed are the words "REPUBLIKKA SRBIJA", 1 OZ., .999 SILVER" and "DINARA 100".
The man himself has a varied and remarkable history. From the moment of his birth in 1856 during a lightning storm, to his questionable death on January 7, 1943 he led a mysterious life and career. He is most notable for inventing the A.C. motor. He was caught up in a war between Edison and Westinghouse. He was taken advantage of by both men and died penniless instead of the rich man he should have been. He had hundreds of patents and scientific awards to his credit.
It has been theorized that he received help from aliens, as he was such a prolific genius. On the day of his death many cases of his notes were taken by the FBI. To this day not all of them are accounted for. The reader should research him themselves as I will go off on a rant. He also was working on limitless, wireless, free electricity and a so called death ray, at the time of his death. Remnants of these can be found in Colorado Springs and New York.
I better stop now. Please look at the photos below and comment on this blog. Thanks for your time.
SOURCES:
Smithsonian.com
History.com
Tesla Memorial Society of New York