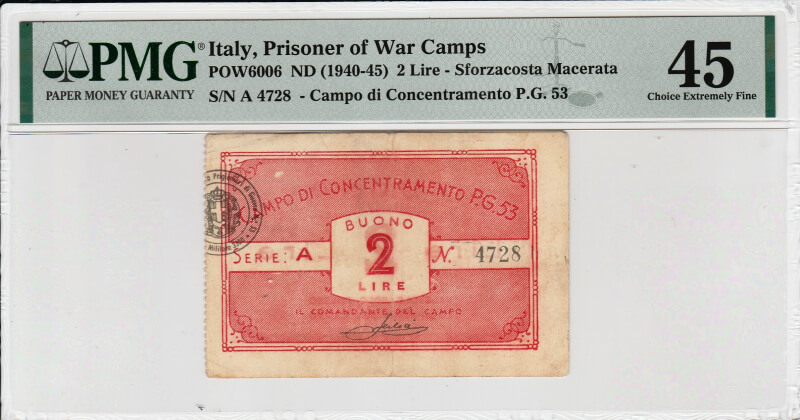 POW AND ITALIAN SERVICE UNIT CHITS of WWII
    I have only been collecting POW chits for about a year. I find them amazing bits of history. My interest grew out of my MPC studies. Since my dad served in Italy during WWII and we are of Italian descent, I try to concentrate on that area but also collect others that interred Italian soldiers as well as Italian Service Units, "ISU".
   The first chit is from a Maryland camp, Ft. George G. Meade. It is in the denomination of two cents. The camp was first used for Italian POWs. After May 1944, German POW's began arriving. It mostly held Wehrmact prisoners as well as a few Luftwaffe members. The camp holds the distinction of having shot and killed submarine commander Werner Henke as he was attempting to escape.
    My next one I was able to purchase from Dave Franks as part of his David E Seelye collection. Mr. Franks and Mr. Seelye are the authors of a couple of excellent books covering this subject. It is a one cent chit from Camp Haan in CA. I plan on visiting what is left of this camp as it is a couple of hours from me.
    It was part of what is now March Air Reserve Base. This camp held German POWs and Italian Service Units or "ISU". ISUs were camps that prior to Italy's surrender, held Italian POWs. After the surrender the men were allowed to join the ISU. That meant they could do some war related work and were paid more, in chits, than they were as POWs. This also came with more freedom. Some of the Camps paid out cash as these men were no longer prisoners of war. Many stayed in the USA after the war.
    My last piece is a different spin on these chits. It is from a camp in Italy that held Allied POWs. It is a two Lire note from Camp 53 in Sforzacosta Macerata in Italy. I have added the rough translations for the reader. I try to collect these chits in circulated condition. It, quite literally is "History In Your Hands". Someone held and used these chits. Imagine!
   I am starting to get long winded here so that's it. I hope you enjoyed it. Feel free to comment. I hope you enjoyed this read and the photos. Thanks.
Sources:
World War II USA POW & Internment Camp Chits: Dave Frank & David E. Seelye
The New Book on World War 2 Italian POW & Internment Camp Notes: David E. Seelye
Translation By: Cousin Maria Poleselli Scoles