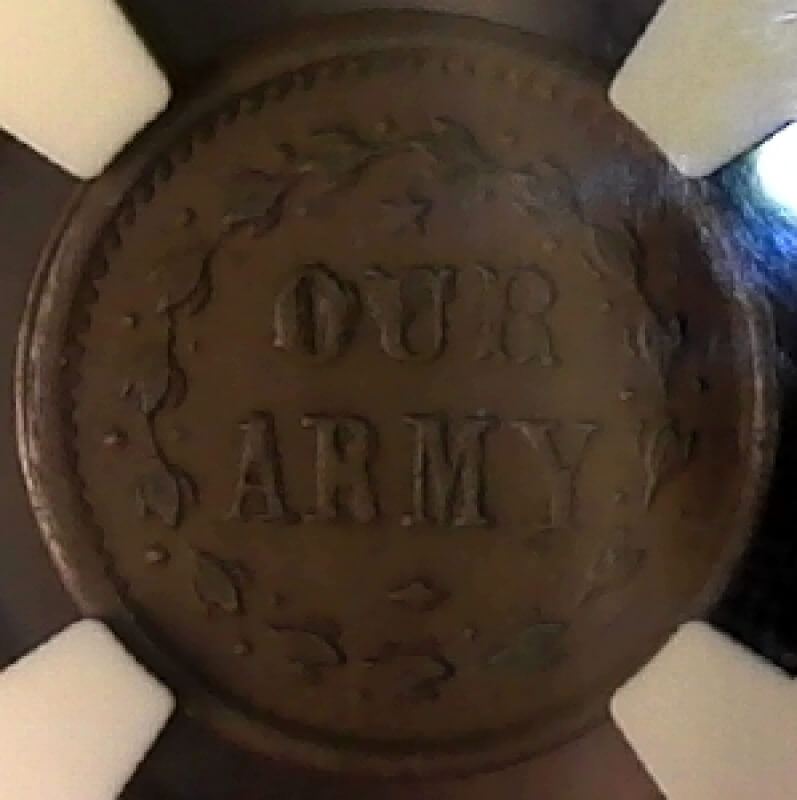 THE WAR BETWEEN THE STATES
My newest blog is on my new 1864 Civil War Token. This one is commonly called Liberty-Our Army for the features on it. It is graded MS 64 BN by NGC. According to NGC it was encapsulated and graded on 3/5/2018. That means it doesn't need to be resubmitted till 3/5/2028. It is a F-47/332 a. That means the dies used are Patriotic die 47 on the obverse. This features the date, 1864 on the bottom and Conical Hat Liberty Head in the middle. At the top is LIBERTY. There are 12 border stars, 6x6, along the sides. The dies are by Charles D. Horter. The reverse die is 332 a. It features a closed wreath surrounding a star OUR ARMY and another star. The "a" means it is made of copper, in this case, or brass. It is of a common rarity. The "F" stands for Dr. George Fuld who developed all the die numbers.
As you can see in the photos below the obverse has a large die crack running through it. This particular token has an early die state break. As time went on, the break opened up and became quite large. I have found that this new type of collection to be very enjoyable. I have met some wonderful people in my quest for new samples and new knowledge. What more could one ask for? Thanks for looking and please feel free to comment your thoughts.
SOURCED:
A Guide Book of CIVIL WAR TOKENS by Q. David Bowers Second Edition