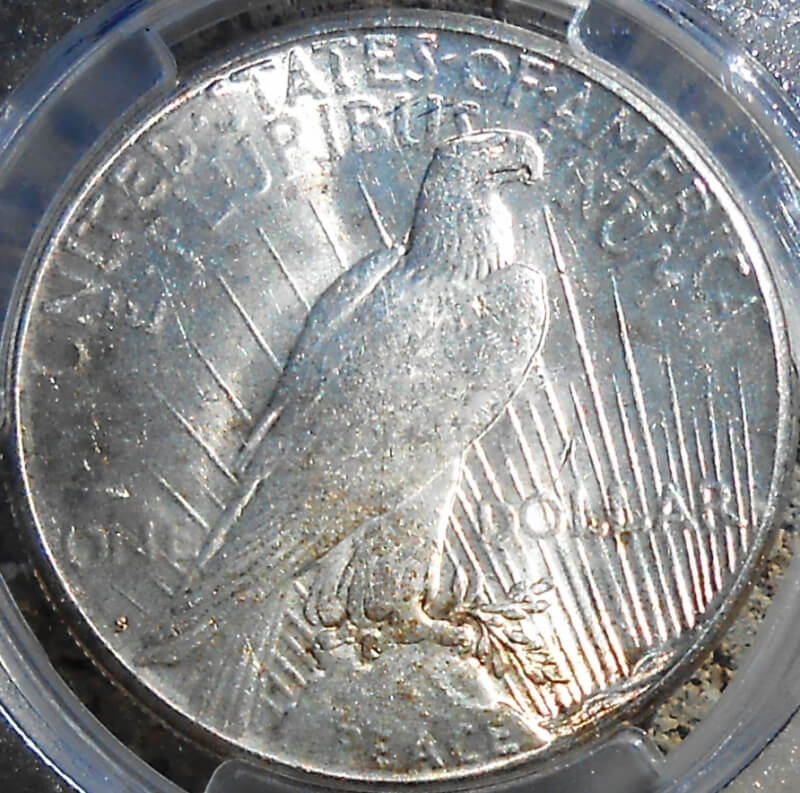 TWO DISTINGUISHED PEACE DOLLAR VAMS
  I just picked up a new, to me, Peace Dollar VAM and realized I have fallen behind in showing them off. Therefore I would like to do this quick blog to remedy that problem. The first is a 1922-S VAM 2B1. I don't have a lot to say about either of these other than they are very cool. I don't want to get too much into the technical stuff on a Sunday.
   The VAM 2B1 is mostly distinguished by its die chip on Miss Liberty's chin. That shows on the coin as a lump of extra metal. This coin is also known as a "Whisker Chin". My example has a micro mintmark. If you look at the close photos you may see something a little wonky going on with it. I have an inquiry into the experts at VamWorld to see if it is something noteworthy. It has a Rarity number of 6. This means it is very rare with only several hundred known. For the tech people it has a die pair of: Obverse II 1 and Reverse B2a.
   My other coin is a 1926-D VAM 1B. This coin happens to be in the Elite 30. That is just a group of fun and easy to see VAMs in the Peace Dollar series. The 1B has a vertical die break visible in the lower, middle of Miss Liberty's hair. My coin appears to be an early die state as it is a little tough to see it without a loupe. The coin has a micro mintmark although this time a "D" that is tilted to the right. It also has a Rarity number of 6. The specs are die pair of: Obverse II 1 and Reverse of B2b.
   That is about it for today. I hope you enjoyed this little blog and pictures. Please feel free to comment and ask any questions. Thanks for looking.
SOURCES:
VAMWorld 2.0
Comprehensive Catalog and Encyclopedia of Morgan and Peace Dollars by… Leroy Van Allen & A. George Mallis
 A Guide Book of Peace Dollars by…Roger W. Burdette…3rd Edition
A Buyers Guide to Silver Dollars & Trade Dollars of the USA by…Q. David Bowers…3rd Edition