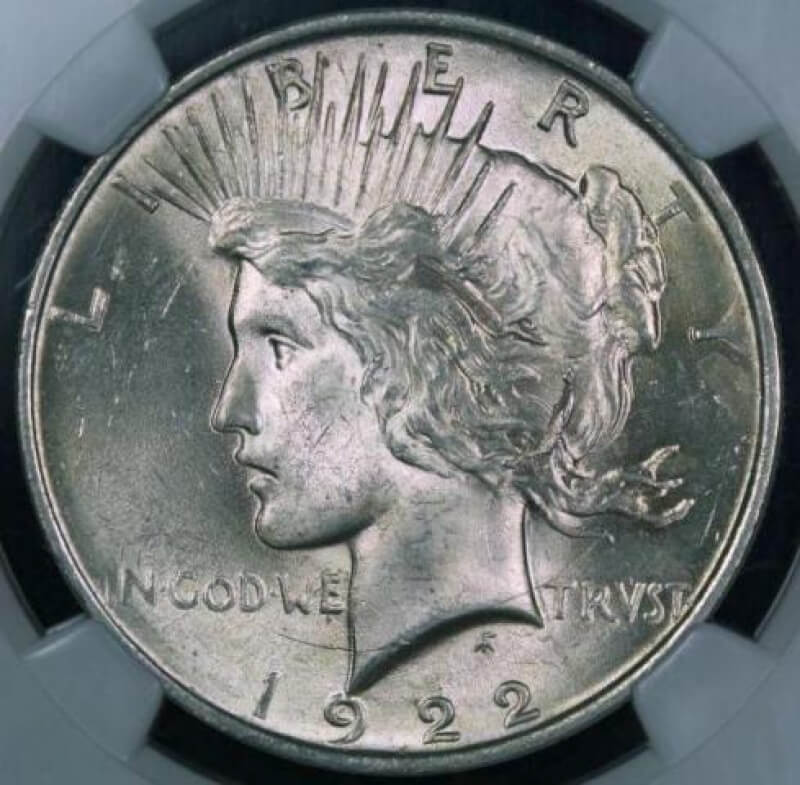 VAM 2C2-ANOTHER 1922 PEACE DOLLAR VARIETY
On January 17, 2019 I wrote a blog entitled "1922 Peace Dollar Vam 2C. This blog is an addition to it. In the first blog I mentioned an additional VAM that is called a 1922 VAM 2C2. This particular blog is about that coin which I have purchased after posting the first blog. As you can see in the photos, the original die break has increased in size very much. This means the coin has a much larger chip on it. That's probably not the correct word for it but that is what I am using.
The VAM 2C2 is what is called an (EDS) or Early Die State. This coin, VAM 2C2 is a (LDS) or Later Die State. Is difference between the two is simply brought about by time. As time goes by more and more coins are stamped from the already cracked die. Eventually the dies crack opens up even wider. This appears on the coin as an increased and raised lump of metal. There is no VAM 3C3. The die has disintegrated.
Both of the VAM designated coins are members of "The Top 50". This is simply a group of 50 Different Peace Dollar VAMs that are visible with the naked eye. It is an attainable goal for us VAM people. A VAM itself is a list of the variations in the dies used to make the coins. The two men, Leroy C. Van Allen and A. George Mallis, were first published on their huge research of these die variations. VAM is an acronym of their names. Please read this and the older blog to get a better understanding of this offshoot, some call a sickness, collecting VAMs.
Please also check out the photos to compare with the older ones. Any mistakes here are mine. P.S. You may notice that there are two different coins here. My coin dealer taught me "If it's worth having one coin, it's worth having two." Feel free to comment. Thanks for looking. I hope you enjoyed and learned something.
SOURCES:
VamWorld 2.0 http://ec2-13-58-222-16.us-east-2.compute.amazonaws.com/wiki/Home
Comprehensive Catalog and Encyclopedia of Morgan and Peace Dollars by
Leroy C. Van Allen & A. George Mallis Fourth Edition
Top 100 Morgan Dollar Varieties by Michael S. Fey, Ph.D. and Jeff Oxman