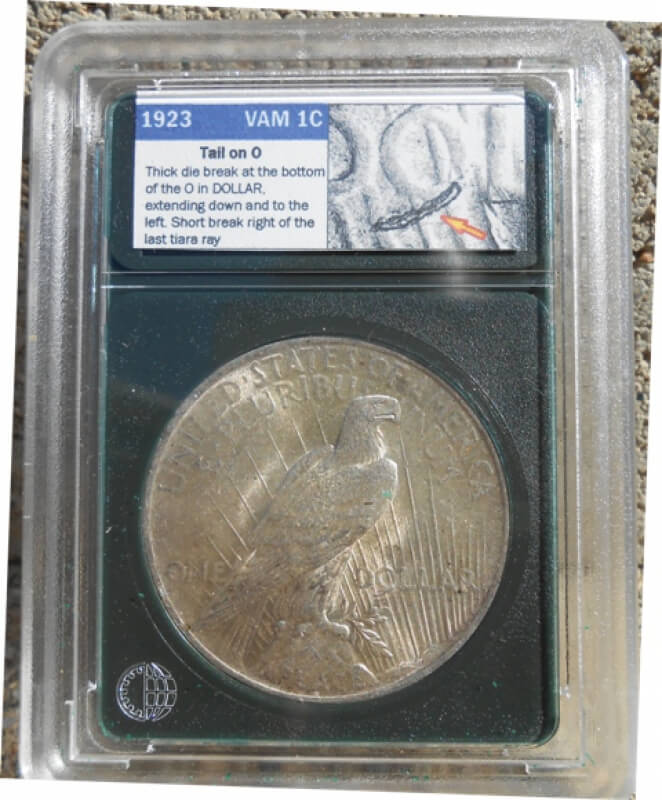 VAM OVERLOAD HERE? NEVER! 1923 PEACE DOLLAR-VAM 1C
VAM OVER LOAD HERE? NEVER! 1923 PEACE DOLLAR-VAM 1C           
At the risk of going too far I am going to list one more Peace Dollar VAM today. This coin is a nice specimen of a 1923 VAM 1C. Commonly called the "Tail on O", this is a very desirable variety. It has a rarity listing of R-6, meaning very rare (several hundred) and an interest level of I-4 meaning major die variety with universal interest to variety collectors. This is also a Top 50. Since I bought this coin raw, it is once again encapsulated and attributed by Variety Slabbing Service.
   I want to keep this short so as not to bore everyone so I will just talk about this VAM alone. The '23 VAM 1C obverse shows a small diagonal die break to the right of the last ray in Liberty's tiara. There is also a die gouge through the "S" in Trvst" to the rim. This is made with hub "II".
   The reverse is where the money shot is. With a hub number "B2a" there is a die break from the lower part of the "O" in "DOLLAR" going diagonally to the left. Since this is a die break it shows as a blob of extra metal on the coin. In late die states, like this coin, it can be quite large. Some coins also show a collar clash below and to the right of "LAR" in "DOLLAR". There is some push in the VAM community to have this variety classified as a separate VAM. It hasn't happened yet.
   Well fellow members, that is it for know. I hope I kept your interest and you learned from my blog. Please comment and enjoy your day.
SOURCES:
Vam World 2.o--http://ec2-13-58-222-16.us-east-2.compute.amazonaws.com/wiki/Home
VARIETY SLABBING SERVICE