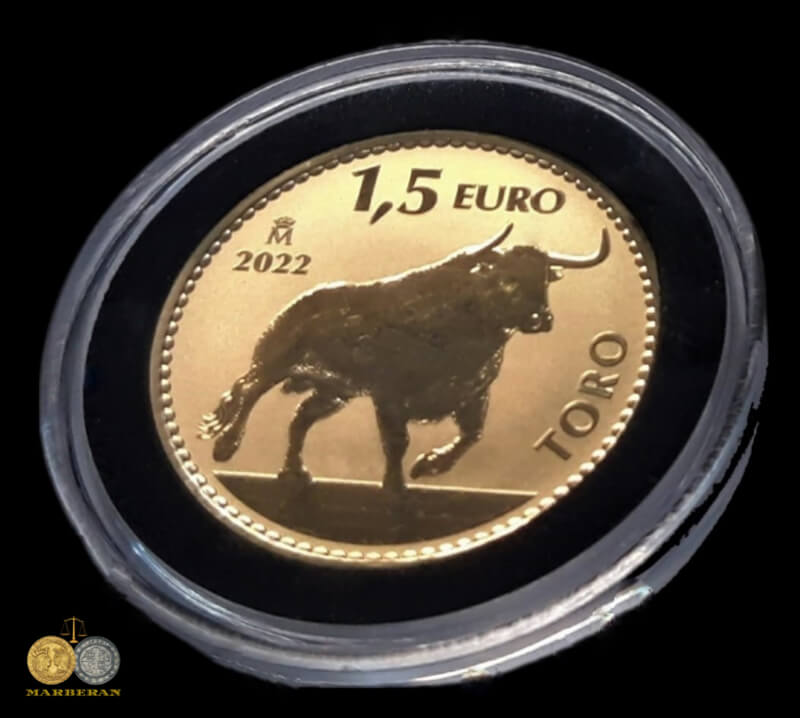 NOW AVAILABLE IN DISTRIBUTORS
The FNMT pays tribute to the Spanish fighting bull with this Troy ounce of gold (31.10 grams).
I have to say that the piece in hand is spectacular.
As I took the photographs, I discovered new details, so I recommend spending some time looking at it and enjoying it carefully.
As numismatics and history always go hand in hand, the design corresponds to Cetrero, a bull from the El Ventorrillo ranch that was fought in the Plaza de las Ventas in Madrid on May 12, 2017, by the right-handed Morenito de Aranda .
DESCRIPTION
The Onza del Toro 2022 is the second investment gold coin historically minted by Spain.
It has a face value of 1.5 euros and contains 1 ounce of 9999 fine gold.
The reverse of the coin shows the image of a bull in an advancing attitude, with the Mint mark and the year of minting 2022 to its left.
On the right side, the legend TORO. At the top, the value of the piece: 1.5 EURO. Surrounding the images and legends is a graph of pinions.
On the obverse we see the representation of the motifs and legends of a royal column on a sea with waves, with the motto 'PLUS VLTRA'.
In the upper center of the coin appear the Mint mark, a five-pointed star, the graphic symbol of the euro and the silhouette of the column.
The legends 'FELIPE VI KING OF SPAIN' and '1 OUNCE 999.9 GOLD'.
The motifs and legends are also surrounded by a gráfila of pine nuts.