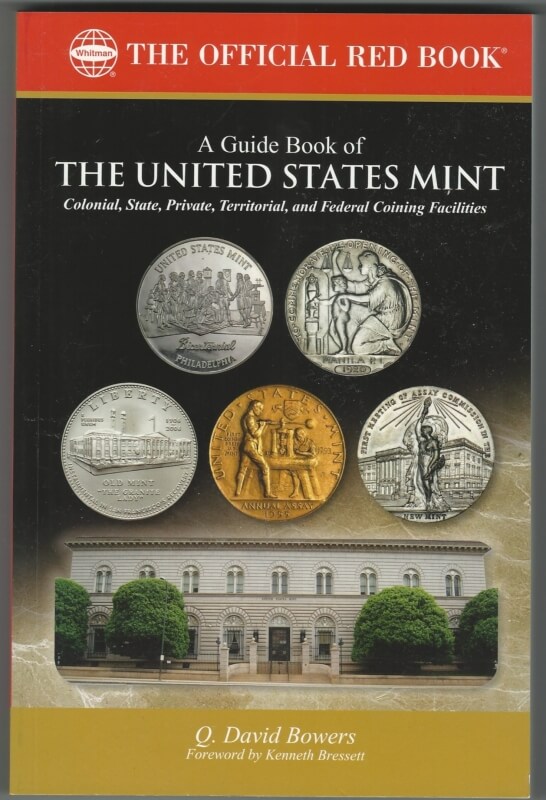 Book Review: A Guide Book of the United States Mint
A Guide Book of The United States Mint: Colonial, State, Private, Territorial, and Federal Coining Facilities by Q. David Bowers; Foreword by Ken Bressett; Whitman Publishing, 2016. 436 pages. $24.95. Reviewed by Michael E. Marotta (ANA 1162953)
(An earlier version of this article appeared in the Spring 2017 issue of The Mich-Matist of the Michigan State Numismatic Society.)
Told in Dave Bowers' inimitable conversational style, replete with stories of both famous and obscure people, this book will give the passionate pursuer of historical American coinage many hours of pleasurable, rewarding reading.
It has been 50 years since the publication of Don Taxay's landmark research, The U.S. Mint and Coinage: An Illustrated History From 1776 to the Present. The new Bowers history will be our standard for the next fifty, at least, and perhaps into the 22nd century. Admittedly, this is not the only recent and reliable history of our nation's money factory. In addition, Dr. Joel Orosz collaborated with fellow researcher Leonard Augsburger to publish The Secret History of the First U.S. Mint (Whitman, 2011). David W. Lange, whose books on Mercury Dimes, Buffalo Nickels, and other series are highly regarded by experienced collectors, also wrote A History of the U.S. Mint and Its Coinage (Whitman, 2005).
Taxay's work will always stand on its own, as does Sylvester Crosby's Early Coins of America (1875) and United States Pattern, Trial, and Experimental Pieces by Edgar H. Adams and William H. Woodin (1913), among others that we cherish for their objective facts and personal insights. In this case—as with William H. Woodin, who later served as Secretary of the Treasury in the first administration of Franklin D. Roosevelt—Bowers delivers the special perspective of an insider. He writes:
"I was able to serve the Mint when, in 1992, Senator Alan Cranston of California was trying to convince Congress that the sleepy Mint could not market the forthcoming Los Angeles Olympic Coins, but that Occidental Petroleum, run by his buddy Armand Hammer, could do a great job. At the time Occidental was famous, a darling of the stock market. At the request of the Treasury Department I went o Washington and, with a few others, testified that the Mint should market its own coins, this was tradition, and until the government decided to rent out the White House it should not turn coin marketing over to the private sector."
In 13 chapters and four appendices, Bowers delivers the compelling (and sometimes arcane, if not bizarre) histories of our nation's Mints. The story begins chronologically with the colonial and early Federal periods (three chapters). Bowers then examines the stories of the main facility and its branches: Philadelphia, New Orleans, Charlotte, Dahlonega, San Francisco, Carson City, Denver, and West Point. The central story ends with "Chapter 13: Mints that Never Were" such as the several proposals for a branch factory in New York City, as well as Louisville, Cincinnati, St. Louis, and Omaha as our nation pushed the frontier westward.
Each of the four appendices delivers a different type of information and presentation format to bring dimensionality to the broad surface of the story. "Appendix A: Mint Directors and Superintendants" opens with a brief citation of the laws and then simply lists the officers without comment. You will have to pursue other avenues to find out about the destruction of Mint records ordered by directors Stella Hackel and Eva Adams. (See, for instance, The E-Sylum Volume 4, Number 22, May 27, 2001, Article 10 by R. W. Julian online at www.coinbooks.org.) Note that Eva Adams' inglorious and somewhat curious relationship with our hobby does appear in the chapters about the Philadelphia and San Francisco Mints.
Appendix B is a reprint of an 1854 report by industrial engineer, Prof. John Wilson of London, on the operation of the Philadelphia Mint.
"Appendix C: Medals and Other Collectibles of the U.S. Mint" is another high altitude overview of a rich and varied history. You can find that in greater detail in 100 Greatest American Medals and Tokens by Katherine Jaeger and Q. David Bowers (Whitman, 2007), and National Commemorative Medals of The United States Mint by John T. Dean (Evergreen, 2012).
Finally, "Appendix D: Highlights of the U.S. Mint's 2015 Annual Report" is a 17-page distillation of the full 68-page report that can be downloaded as a PDF from the Mint. (Go to the Home page www.usmint.gov and find the Report under the About tab.)
Of course, the work is heavily footnoted with over 225 citations, 77 of those to support the history of the Philadelphia Mint. Likewise, the Bibliography runs over 100 entries. Most, such as Walter Breen's Encyclopedia of U.S. and Colonial Coins, are accessible to the average collector seeking to strengthen their knowledge base. However, many, such as the articles that R. W. Julian published in Numismatic Scrapbook Magazine will be easy only for the numismatic bibliophile. A couple that will demand some serious focus are the two listings for John Leonard Riddell's "The Mint at New Orleans with an Account of the Process of Coinage" which is known from two obscure reprints and a rare pamphlet. The report was reprinted by Hunt's Merchant Magazine of New York City for January 1846 and in Debow's Review of New Orleans for June 1847. I found those in my local university library archives thanks to an E-Sylum note by Dave Ginsburg (Volume 10, Number 23, June 10, 2007, Article 15). They were background for my research, which was published by The Numismatist for April 2014, as "The Riddle of John Leonard Riddell."