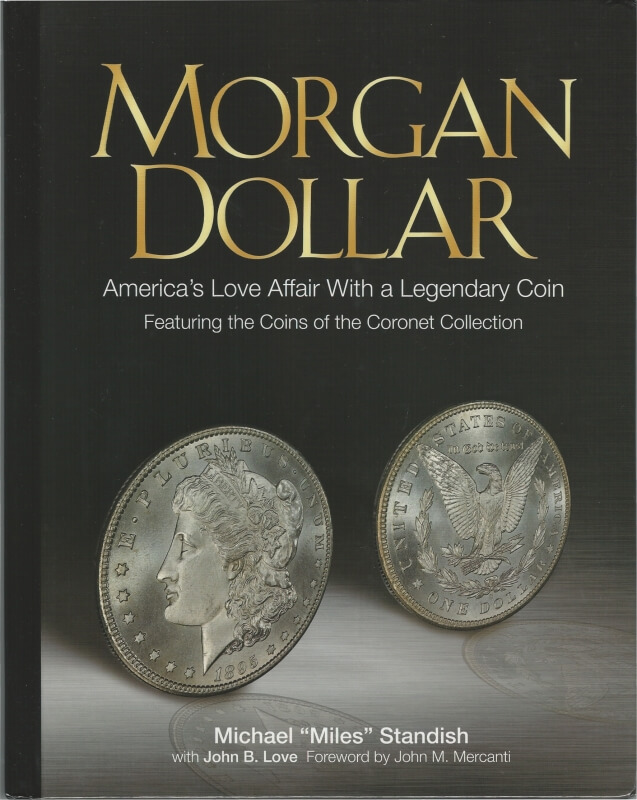 Book Review: The Standish "Coronet Collection" of Morgan Dollars
Morgan Dollar: America's Love Affair with a Legendary Coin Featuring the Coins of the Coronet Collection by Michael "Miles" Standish with John B. Love; Forward by John M. Mercanti. Whitman. 2014. 154 + v pages, 8-1/2 x 11. $29.95.
PCGS ranked this as the finest collection of Morgan Dollars. But this is not a VAM book. Each of these wonderful coins is just an example of an issue - but the highest known grade, including those that are Deep Mirror Prooflike (DMPL). Looking at the numbers on each page, it is astounding how rare certified coins are. 5 million... 8 million... 11 million struck, but only a few thousand certified; and of those only a few hundred are of the highest grades.
Of course, there is more to numismatics than grading. This book provides an insightful - sometimes quirky - history of the Morgan Dollar, placing it in its cultural context. Knowledgeable collectors will identify the goddess on the obverse as Anna Williams of Philadelphia. Perhaps not, says Standish, citing a Coin World article from 2002 that revealed a letter from George Morgan denying that any one model served for Miss Liberty.
This book also delivers an in-depth analysis of pricing as cited in the Red Book.