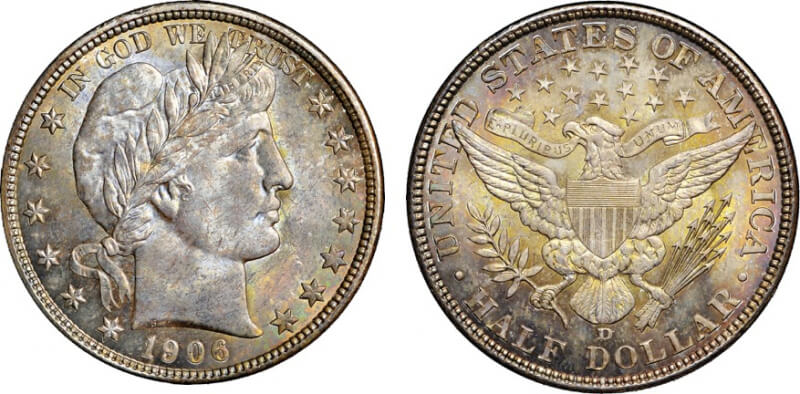 First Coins of the Denver Mint
A simple question for collectors led to the discovery of a lost fact: the first coins struck by the Denver branch Mint were half dollars produced on February 1, 1906.  
The fact was revealed at a meeting of the ANA member Capital City Coin Club of Austin, Texas. Club member Kurt Baty spoke on "United States Coins and Mints." "It started with a rather simple question," Kurt Baty explained. "If I wanted to have a U.S. Mint mintmark set, what could it look like?" What would be the fewest coin types to meet the challenge? On the other hand, could you assemble eight different coins, one from each of the eight Mints? What if you wanted to show the first coin struck by each?

That last question spurred a search. Mint records are often mute on such matters, so numismatists tease out other sources of information. In this case, none of the standard references for collectors of American coins identified the first coins run on the presses of the Denver Mint. So, Kurt Baty turned to online archives of regional newspapers near Denver. The website www.ColoradoHistoricNewspapers.org provided a front-page article published in the Aspen Democratfor February 2, 1906. 

"ARE MAKING HALF DOLLARS." The subhead spoke in the local vernacular: "Money-making machines turn out 'de dough' in view of hundreds of spectators." The article (datelined Denver, February 1) continued: "At one minute of 11 o'clock this morning, Superintendent Downer gave the order that started the money-making machines in the United States mint. Although no special ceremony marked the opening of the mint, the balconies above the stamping rolling, and adjusting rooms were packed with visitors who watched the fascinating work below. The day was given up to the making of half dollars. The silver had been received from the subtreasuries in St. Louis and Chicago, in the form of uncurrent and abraded coin, which had been found wanting, so they were melted into small bars for coinage. A noticeable feature of the machines is that each one has a separate motor; so that everything in the United States mint runs independently of everything else." 

 Apparently, news of the first run soon arrived at the ANA. The Numismatist for February 1906 reported a correspondence from Frank M. Downer, superintendent of the branch Mint, dated Feb. 9. 1906. Downer wrote: "Mr. Geo. F. Heath, Monroe, Mich. Sir:--Replying to your inquiry I would say that this institution has coined a few half and quarter dollars.  No proof coins have been struck and there probably will be none."