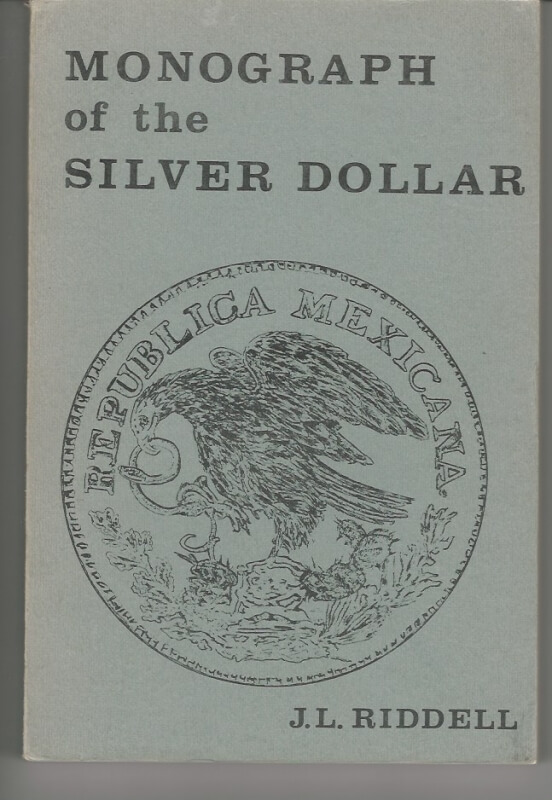 From the Mint to the Moon with John Leonard Riddell
(This blog post is based on earlier works for The Numismatist ("The Riddle of John Leonard Riddell," April 2014, Vol. 127, No.4), the E-Sylum mail list (Volume 16, Number 40, September 29, 2013, Article 12; and Volume 19, Number 8, February 21, 2016, Article 22; etc.) and my blog, NecessaryFacts (Thursday, December 27, 2012).

Numismatists know John Leonard Riddell as the chief melter and refiner at the New Orleans Mint from 1838 to 1849. While at the Mint, he improved on the machineries; his rotary ingot machine was in use as late as 1904. Riddell also wrote A Monograph of the Silver Dollar, Good and Bad (New Orleans: E. Shepard, 1845) which might have been lost to history but for its having been reprinted in 1969 by Soxiedad Numismatica de Mexico in 550 numbered copies. John Leonard Riddell was arguably the first working scientist to write and publish a science fiction story.
In addition to his Monograph of the Silver Dollar, we know of two editions of a pamphlet he wrote about Mint operations: The Mint at New Orleans (1845) and The Branch Mint at New Orleans, with an Account of the Process of Coinage and Fac-simile Impressions of the Coins Manufactured (1847).
His scientific achievements, while perhaps less well known to numismatists, are readily accessible. He invented the binocular microscope in 1851 while teaching at the Louisiana Medical College (now Tulane University). Riddell argued for the germ theory of disease against the miasma theory. If this polymath had a continuous career, it was a botanist. He sought plants of all kinds, but was primary interested in their curative and palliative properties. He wrote A Synopsis of Flora in the Western States (1835). Those "western states" included Ohio, Michigan, and Illinois. Later, he traveled farther west, publishing "Observations on the Geology of the Trinity Country, Texas" in the American Journal of Science and Arts, November 1839. Riddell's diary was republished as A Long Ride in Texas: The Explorations of John Leonard Riddell by Jo Breeden, editor, (Texas A&M University Press, College Station, Texas: 1994).
Perhaps the coin best identified with Riddell's tenure at the New Orleans Mint is the rare and elusive 1838-O Capped Bust half dollar. Riddell had little to do with it himself, but he was at the Mint in the year it was struck. Riddell actually had a tough time as assayer and melter and his first work came under direct criticism, likely with good justification. In his defense, it is argued today that he did not get good instructions from Philadelphia. The fact remains that Riddell's handiwork in the preservation of rare herbs, his construction of a binocular microscope, and his rotary ingot machine all validate his skill and craftsmanship.
Like the early Mint directors, David Rittenhouse and the father and son Robert and Robert M. Patterson, John Leonard Riddell was a polymath. Before his appointment as chief melter at the New Orleans Mint, he had completed two different medical degrees and made a name for himself as a botanist. In fact, it was through his sales of collections of herbs that he met the younger Patterson, which proved helpful when Riddell got into political troubles at the Mint.
As early as 1831, Riddell made notes for a story about an aerial car. He finally put it together for the people of New Orleans on the night of April 30, 1847. A few days later, some of the city fathers who enjoyed the presentation urged him to publish the story. The first printing was done by a New Orleans firm, but on the heels of that another printing is known from Louisville, Kentucky. That may have been an unauthorized reprinting, a bootleg edition.
Elements in Riddell's story are close to details in H.G. Wells' scientific romance, The First Men in the Moon, published over fifty years later in 1901. Some historians of science fiction have looked for a direct link, or what we call "a smoking gun." As far as we know, no British library held a copy before the 20th century.
You can find several versions of this pamphlet online.
* You can find it in Google Books. The one they imaged is archived by the University of Michigan Library and it came into those stacks in 1927. That one is a Louisville printing.
* Forgotten Futures has another version online, a transcription in modern HTML.
* An academic journal, Science Fiction Studies, published a third.
* If you love collectibles, the auctioneer L. W. Currey offers an original edition for $3750.
Riddell was meticulous. Just as with his notes on the geology of Texas, he also was aware of the latest scientific findings and reports. In this case, what we now call the Lagrange Point is where the gravitation attraction of the Moon is equal to gravitational attraction from the Earth. This is important for any trip to the Moon.
In fact, throughout the pamphlet, Riddell provided laborious footnotes of equations, facts, and calculations to bolster the account.. Science fiction historian Everett F. Bleiler suggests that Riddell's spoken lecture surely did not include these technical asides. Rather, Riddell added them to the pamphlet he published.
Among the very many technical asides from that work, I just want to add that Riddell calculated the oxygen needed by two men for ten days. He also imagined pressurized copper tanks for holding the gas. More to the point, he realized that the exhaled CO2, the carbon dioxide, would be the worse problem. So, he fitted his spherical spaceship appropriately.
Speaking as Orrin Lindsay, Riddell wrote: "I thought it best to provide slaked lime to effect its absorption by converting it into carbonate of lime; and I found by calculation, that 65 pounds of pure slaked lime would be a trifle more than was necessary to absorb the 40 pounds of carbonic acid gas which two men would exhale in ten days, which amount of lime I provided."
My point here is that calcium hydroxide - what Riddell called "slaked lime"- is indeed what the US Navy uses as a carbon dioxide scrubber in deep-sea exploration vehicles.
Riddell worked at the leading edge of 19th century knowledge, much of which we still make use of.