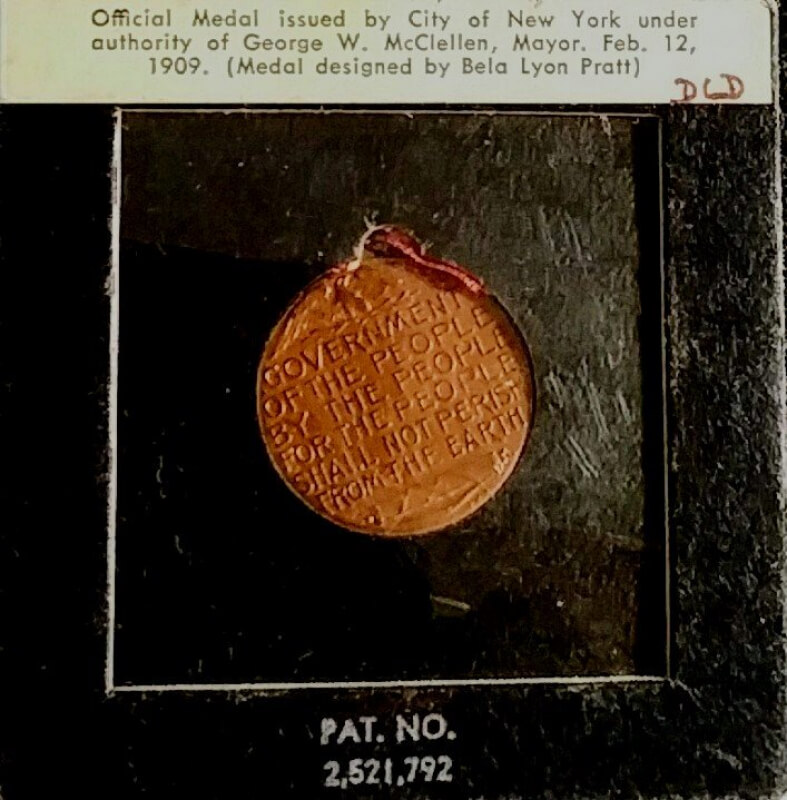 The Smallest Biggest Medal
Hi everyone. A couple of weeks ago I saw a medal of Abraham  Lincoln. It was at an auction. I will describe the medal I saw. It was made of copper 7.28 gm and 35mm. It came in three sizes they had two. The weight by the way includes the ribbon . He is facing right. The obverse reads centennial of Abraham Lincoln MCMIX. Also the designers name is under his neck. B.L.Pratt in small letters above the year. Who by the way studied under Augusta St. Gaudins. And also made the U.S. Gold 5 Indian Head... Now that's just the beginning.

         The reverse has an eagle with outstretched wings with an Olive Branch in his talons. Then the famous words. He had many but they chose these. "The Government of The People By the People Shall Not Perish From the Earth"  Under that there is a Fasces. A Fasces comes from the Latin word meaning bundle. Bundles of wooden slats  sometimes with an axe and the blade being seen.. The medal itself is uncirirculaded and has a beautiful Patina on it. Now that's allot for a small medal. The Fasces goes back to the Romans you will see it in other coins. It is rapped most of the time in leather.

           Now it came in the original cardboard holder with plastic protecting it. This is from 1909. It has gold embossed lettering on the face. See picture bellow. In the reverse of the holder there is a typed message. It reads "Official Medal Issues by the State Of New York Under Authority  of George W. McClellen Mayor of New York Febuary12,1909. (Medal Designed By  Bella Lyon Pratt)."

          Now you didn't expect this beautiful medal to take so much time to describe. But big things come in small packages.  This medal was taken care of. Yes the holder is  beat up a little  if look how old it is. It's actually in great shape for its age. It did it's job I just wish I had the name of the person who owned this.  It was made at the Whitehead & Hoag company in New Jersey. The designer Pratt lived from 1 867 to May 18 1917. 

         Now my feelings. Medals come in all sizes and shapes. Here we have a small medal that contains so much history. It truly is a piece of our country   and history When I saw it I thought it was a cent with a ribbon. Then I read the description. I couldn't believe it. You have Lincoln and the words he
that we live by. Mr. Pratt knew what he was making from the minute they asked him. One of our greatest Presidents if not the best and the beautiful words on it. They had another at the auction not much bigger but the face had markings on it.  That's the first and last one to get more bids than the one I won. Why the size. If you put them next to each other it's not that much bigger. But some people like big medals . This was not much bigger but they had to have it. They paid for it.

           I hope you enjoyed this small blog on a giant medal of a giant man. I will cherish this and keep it in the same condition as the day it was made.. Thanks for taking the time.  Stay well stay safe. One more thing. Please take a good look at the quaility. The face of Lincoln looks so defined and well sculptured. You can see every part of his face. It done that well. I had to get that in. Thanks. If you held this you would know this one is a keeper!
     .......I am very sorry about the space between the pictures and the blog.. Hit the wrong button at the wrong time!!please enlarge the pictures just click on them you will see the work that went into this.