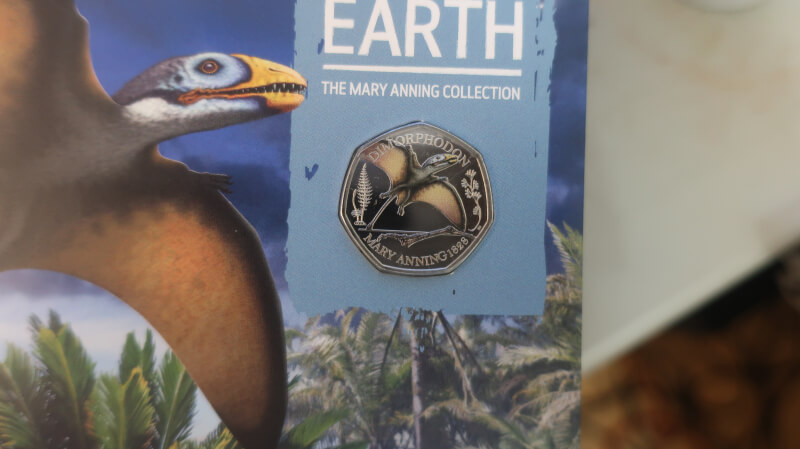 Dinobird prehistoric fun
Some coins present endangered species, and in fact that is one of the most popular commemerative themes, but not this coin.  In this case, the bird is dead and exinct.  In fact, it is fossilized road kill, maybe the most important roadkill we ever discovered.  In 2011, the German Republic issued a lovely proof coin celebrating the discovery of the Archaeopteryx  from the limestone quarries of Solnhofen area in Bavaria.  If you want to see something, I made a really beautiful website about this coin more than a few years ago, and there is no reason to repeat it.  Instead I can update is a bit with new images and its new slab.
http://www.mrbrklyn.com/archeopteryx.html

Since the time I created that page, I had a chance to get a MS in Comp Sci in a late life career change.  For the thesis I wrote a paper on computational mathmatics as it relates to Paleontology.  I took off and spent some quality time in the Canadian Bad Land of Drumheller Alberta and the Royal Tyrell Museum.  They have a terrific museum which I wrote extensively about

http://images.mrbrklyn.com/2017_03_royal_tyrell_drumheller/IMG_1491.JPG?slideshow=3&width=1024

http://www.mrbrklyn.com/calgary.html

The result of all this work was my thesis - which blew the mind of my preceptors and deans.  Nobody ever went to Long Island University before for a Masters in Computer Sciences and minored in Paleontology.    The thesis was cool  
http://www.nylxs.com/thesis/

http://www.nylxs.com/docs/thesis/writeups/thesis.pdf

I don't collect to many prehistoric animal coins.  I find most of them a bit off putting and over the top.  But I did add some commems from the British Museum of Natural History, which I had visited.  It was a funny thing.  I went to the British Museum of Natural History to see their specimen of the Archaeopteryx.   It was less impressive than I thought it would be., and they don't present it well at all.  In fact, the entire museum can use a bit of an upgrade.    On that same trip I went to the Netherlands and went to Harlem to see the Frans Hals museum.  I didn't realize that I missed a huge opportunity to see not just another specimen of the bird, but also one of the great coin collections in the world at the Tyler Museum.  I was just ignorant.  It is rare I miss something like that.  I'll have to make it on my next trip.

The British mint coins celebrated the life and discoveries of Mary Anning, famous for "She sells Sea Shell down by the Sea Shore".  She sold the fossils she found near the shoreline, including many amonites,  Myy son made these movies of the coins


http://www.mrbrklyn.com/coins/maryanning_2.mp4
http://www.mrbrklyn.com/coins/maryanning_1.mp4
I hope you enjoy all of these links ... it is more than the typical blog.  But they are fun.

This kind of coin flies under the radar and is great for new collectors to flame the passions of collecting.   It is not just the coins, but how the coins integrate with your life and our shared culture.  It is an exploration of society and humanity.