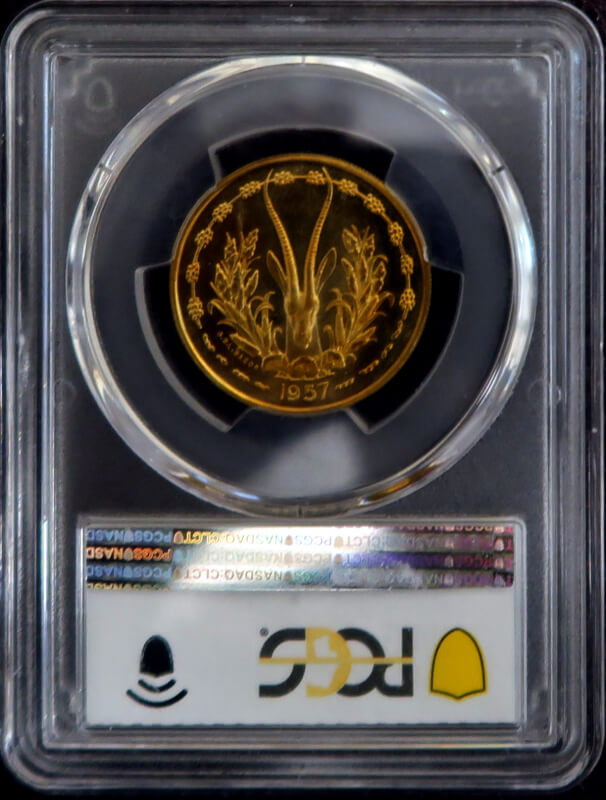 French West African Francs - Special Strikes
I had a surprise with a recent auction from Stacks for a French West Aftrican coin.  I've learned that if I see an exceptional example of a common coin, you make a heavy bid, because they don't tend to reappear frequently.  So, a while ago, I financed for my son an ebay purchase of an FOA set that included an intriguing piece  from 1972, a 50 Franc West African States which has a symbolic representation of a sawfish.   It was sent into ANACs and graded out as a MS66.  It is inscribed with Union Monetaire Ouest Africaine on the reverse and Banque Centrale des Etats De L'Afrique de L'Ouest, with the sawfish.  There is a whole interesting history of the Sawfish and West African culture and the species is used for monetary weights.   There has been a long write up on this symbolism done by my son

http://www.worldofcoins.eu/forum/index.php?topic=51646.0

I thought I was bidding on a single coin.  I was surprised to find out that two were delivered, a 10Fr and a 25Fr.  Once I had them in hand, I learned these are special mintages, near proof examples of the West African coins, that was never circulated.  Why and how they were distributed is a complete mystery to me.  That are engraved as ESSAI - which means "test" in French.  I had to pour over the Krause to have them identified.  I am not certain of the mintage number since the 1957 numbers are published

E6 1957(a) — 10 Francs. Aluminum-Bronze. KM8. 30.00
E7 1957(a) — 25 Francs. Aluminum-Bronze. KM9. 32.00

I find it interesting that this design went to the trouble of engraving two smaller fish like thingies on the upper right of the coins, near the word d'EMISSION.  I assume they are supposed to be fish, but I am not sure.  The 25Fr has a light surface mark on the left of the horn of the truly impressive antelope.  It was still graded MS67, and I believe that was the case because strike is so strong.  The give away for the strike is the small cross like design element on the sawfish that includes the eyes.  It includes a double bar with a space between,  It is perfect on this example, and slightly less so in the Fr10 which a cleaner coin overall and received an MS66.

http://images.mrbrklyn.com/coins/west_africa/ 

Both sides of these coins are extremely pleasing.  It is nice to not have portraits.