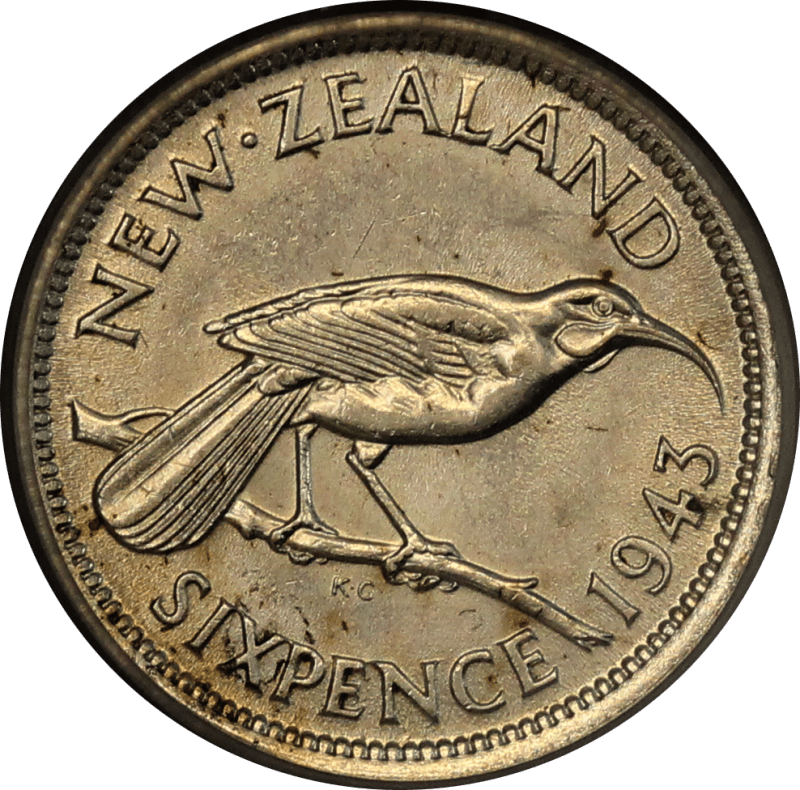 One More NZ Six Pence ---> one that got graded
| mrbrklyn
So, one more that got straight graded.  This one actually recieved an AU grade, yet I think there is a weakness in the planette..
They didn't see only problem with it though, and they have proven to be much better at this than me.

A word about this bird
The huia is an extinct species of New Zealand wattlebird last seen in 1907,  Its extinction was triggered by deforestation and over-hunting.  It seemed to be very dependent on old forest growth and rotting wood.  The natives (such as there are natives since they arrived only about 750 years before the Europeans,) used their plumage and also put pressure on the birds.  Personally, I think the pressure from aboriginal man is under estimated in these situations because of European guilt... so be it.  Even still, the export trade for specimens was strong, and after the Europeans came, with their mammals and guns, it put a lot of pressure on the species. 

Interestingly, the natives kept them as pets, and they could be trained to talk.  Usually that can protect a species, but not in this case.  They weren't seed eaters and require larvae and insects.  Tail feathers still trade on the market for thousands of dollars.

New Zealand fascination with the bird seems to never end.  Maybe it is a good candidate for genetic resurrection?  They made a 2015 1 ounce silver for the bird, 2010 New Zealand $1 Silver Proof Coin, etc.