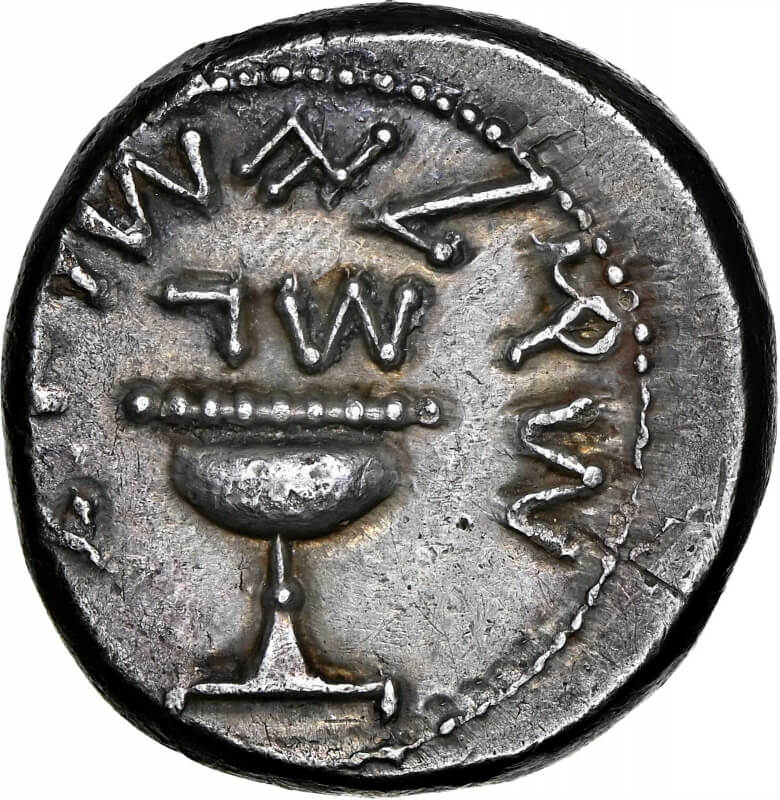 The intersection of the Holocaust and Numismatics History
There are a number of historically significant numismatist that either died in the Jewish genocide of Europe before and during World War II or fled from their homes. Many of them made their way through to Amsterdam and were cut off by the Nazi's. Others found their way to North America and New York. Others, too many, perished in the crematorium of the death camps in Poland that were built by the Nazi's, or shot in mass executions in the death grounds of Eastern Europe.
With the invasion of the Netherlands in May, 10th of 1940, many of the wealthy bankers and financiers of German Jewish who escaped to the friendly confines of the Dutch Providences and their families found themselves suddenly cut off from an escape route off the continent. It was very grim. The Dutch had a general strike had been brutally repressed by the Germans in February 1941. Several incidents of German violence and murder of Jews catapulted the Dutch far left in the center stage of Dutch resistance. A general strike was called in Amsterdam, and was brutally ended with hand grenades and rifle fire. On February 27th, 1941, it was ended.
After this, Colonel Sybren Tulp, a Dutch collaborator from the Dutch military with experience in the East Indies, took over the Amsterdam police force. He enthusiastically developed and implemented the German program of Jewish genocide and The Final Solution, himself even going house to house round up Jews, and deport them in mass to Auschwitz. There were about 140 thousand Jews remaining in the Netherlands, and about 25 thousand of them were foreign refugees, most of them German. The systematic murder of the Jews, particularly in the Dutch urban environments, resulted in some of the worst de-populations of Jews in Europe. The last train left the Westerbork transit station, where Jews were imprisoned before transport east, carrying the last Jews to Auschwitz-Birkenau on 3 September 1944. 107,000 Jews had been deported. Only 5,200 people survived Auschwitz and the transit. Slightly more than 25,000 Jews went into hiding with help from the Dutch. Of those, about two thirds managed to survive.
Among the victims of Final Solution in the Netherlands was the family of Max Schlessinger. Max Schlessinger was a banker and coin dealer whose family had long roots in the study and application of numismatics. Born on January 12th, 1914 in Frankfort, Germany. The Frankfort community had several famous and prominent Jewish banking families, many who dabbled in coin collecting. His cousins were the Hamburger family which established Numismatics enterprises in Germany and where he received initial exposure to the coin arts. His father, Felix Schlessinger, opened is own coin shop in 1928, eventually moving to Berlin where they had a front seat to the viewing the rise of the Nazi party in Germany. His mother was from Munich and was a member of the Feuchtwanger family. Lewis Feuchtwanger (worthy of his own blog entry) was the designer of the Feuchtwanger cents that shortly circulated in the United States as emergency coinage after the panic of 1837. It was one of the earliest attempts at a non-silver alloy in coinage, designed to imitate silver. The cents themselves are highly collectable.
Moving to Berlin proved to be a mistake. In 1935 the family moved to Amsterdam where they collaborated and found meaningful help by the Numismatic community there including such famous houses as the Maurits Schulman (also worthy of a blog entry), Zwierzina and Van Kerkwijk. Felix and family continued with their continental wide Numismatic trade, issuing auction catalogues into 1941 when the German invasion cost Max's parents their lives as they died in Auschwitz in 1944.
If this was not already worthy of an entire life story, the saga only begins for Max Schlessinger. Avoiding capture of the Nazi's is worthy of a book, and perhaps an autobiography will one day be written. Alexander Wellensiek, from the Dutch resistance, was largely responsible for saving Max's life. He hid him in his offices at Reguliersgracht 18 for months as Max determined to join the Dutch resistance. Reguliersgracht 18 is down the block from Rembrandtplein, off the canal, a few blocks from what was the center of Jewish life in Amsterdam prior to the deportation of the Jews and the Dutch General Strike. After four months of hiding, he made his way to Belgium and then France, to eventually end up in Northern Spain which has its own unique and interesting Holocaust history. Despite centuries of hostility toward Jews, Spain still was an essential escape route for many Jews fleeing Nazi persecution, and Jews tried desperately to make their way to neutral Portugal. While the attitude of Fascist Spain and Portugal was inconsistent with regard to Jewish refugees and German Nazi antisemitism, it was far better than the certain death that awaited Jews in the north. Thousands of Jews were saved by adventuring into Spain and Portugal, and the efforts of specific individuals and diplomats was particularly worth noting and whose stories are worth preserving with more than an accounting of numbers. Among these include Eduardo Propper de Callejón, a Spanish diplomat in France when the Nazi's marched into Paris. His position as the First Secretary of the Spanish Embassy in Paris allowed him to secretly protect Jewish lives and prevent Nazi plundering of important art. In July 1940, he issued from the Spanish Consulate in Bordeaux to desperate Jewish refugees more than 30,000 transit visas to Jews, which he coordinated with Portuguese Consul Aristides de Sousa Mendes. In a story that is accounted by the personal testimony of many, and was published on the BBC in June 2020. There is a touching retelling of the events about Aristides de Sousa Mendes in the Smithsonian Magazine and it gives important background to understanding how Max Schlessinger escaped the Netherlands and France to freedom:
One evening, Sousa Mendes ducked into a chauffeured car to survey the scene outside, where French soldiers with steel helmets and bayonets maintained order. Approaching Bordeaux's Great Synagogue, Sousa Mendes spotted a man in a dark, double-breasted caftan—a Polish rabbi named Chaim Kruger, who had served in a village in Belgium but fled with his wife, Cilla, and their five young children. Sousa Mendes invited him back to the consulate. "He took me and my family into his home," Kruger later told the American Yiddish newspaper Der Tog. "But he immediately declared that no Jews may receive a visa." Aristides and his twin brother, Cesar Aristides and his twin brother, Cesar, c. 1899. Both would earn law degrees before entering the foreign service. They remained close, but it was Aristides whose life was upended by World War II. Courtesy of sousamendes.org

Quietly, however, Sousa Mendes did request permission from Lisbon to issue the visas, and on June 13 the Foreign Ministry responded: "Recusados vistos." Visas denied. Flouting his superior, Sousa Mendes offered Kruger the papers anyway. Kruger declined them. "It is not just me who needs help," he told Sousa Mendes, "but all my fellow Jews who are in danger of their lives."

Suddenly, Sousa Mendes' selfless effort to help a new friend, to aid a single Jewish family, was revealed for what it truly was: A choice between saving himself and saving thousands, between obeying his government and obeying his conscience. The dilemma was so destabilizing that Sousa Mendes stumbled into his bedroom "as though he had been struck down by a violent disease," his son recalled.

He finally emerged three days later. "I am going to issue a visa to anyone who asks for it," he announced. "Even if I am discharged, I can only act as a Christian, as my conscience tells me."
Further in article we find more details of the heroic efforts to save Jews in Bordouax:
As the Nazis rumbled toward Bordeaux, Sousa Mendes scarcely slept. He was, by one account, "evidently exhausted." In the rush to attend to everyone, his signature grew shorter: from Aristides de Sousa Mendes to Sousa Mendes to, finally, simply, Mendes. Frightened to lose their places in line, refugees would not move even to eat or drink. Fistfights erupted. And each day new people arrived, desperate for documents. The banking magnates Edward, Eugene, Henri and Maurice de Rothschild came seeking papers. So did Gala Dalí, Salvador's wife, who requested visas for herself and her husband; he was busy building a bomb shelter in the garden of their rented house near Bordeaux. The Dalís sought refuge in the United States along with a number of Surrealists and other artists.

To speed up his operation, Sousa Mendes enlisted help from his son Pedro Nuno, his nephew Cesar, and José de Seabra, his consular secretary. One man would stamp the passport, Sousa Mendes would sign it, and Seabra would issue a visa number before everything was recorded in a ledger. Kruger circulated among the crowd, gathering passports in bunches, shuttling them upstairs for Sousa Mendes' signature, and delivering them when they were complete. Among those seeking papers were Israel and Madeleine Blauschild—better known by their screen names, Marcel Dalio and Madeleine LeBeau—on the run after the Nazis plastered Dalio's image around France to help Frenchmen identify the "typical Jew." (Two years later, the couple would appear in Casablanca, a film about refugees seeking letters of transit to Portugal; he played the croupier Emil and she the young Yvonne, who famously sang "La Marseillaise" while tears ran down her face.)

On the night of June 17, a man in a finely cut suit and a trimmed mustache approached the consulate—the private secretary to Archduke Otto von Habsburg, pretender to the Austrian throne. While his family waited in a chateau 80 miles away, Otto dined at Le Chapon Fin, Bordeaux's finest restaurant, hoping to glean intelligence from overheard chatter. His secretary handed over 19 passports. Sousa Mendes stamped and signed each one. The former royals, traveling in five cars trailed by two trucks stuffed with their belongings, lumbered to the border. On the morning of June 18 they crossed into Spai
n.
https://www.smithsonianmag.com/history/the-righteous-defiance-of-aristides-de-sousa-mendes-180978831/
On the backs of these heros, Max Schessinger made his way out of France into Northern Spain where he was interned for several months in concentration camp at Miranda de Ebro until July 1943. The Miranda camp was the largest of almost 200 Fascist concentration camps in Spain built by Franco. It was originally designed to hold international fighters in the Spanish civil war, but eventually ended up holding more and more escaping Jews from around Europe who headed to Spain to escape death. By the end of 1942 it had over 5000 inmates. Most of the escapees who ended up in Miranda wound up eventually in Britain, and the English made considerable efforts among its diplomatic corps to save Jews crossing the Spanish and French boarder, often directly intervening and bringing refugees from the boarder to Madrid and to Gibraltar which was British territory.
https://ww2escapelines.co.uk/wp-content/uploads/2017/01/Miranda-del-Ebro.pdf
https://www.theroadtoengland.com/single-post/2017/12/16/Spanish-concentration-camp-Miranda-de-Ebro
Max managed to join the Dutch Free Netherlands Forces and served in the Dutch Embassy in Lisbon until the end of the war. He was awarded the Royal Military Cross of Merit by Queen Wilhelmina, and moved to the Baltimore, Md in 1946 where he had his name legally changed to Mark M Salton.
At this point, under his new guise, Mark entered international banking, which he was fully prepared for since his youth. He worked for Manufacturers Hanover Trust and acquired a masters degree from NYU in international banking. In 1948 he met Lottie Aronstein and married. Their shared passion for Numismatics placed them in the center of the North American coin trade. They spent a lifetime together putting together a fantastic international collection of coins, closely affiliated with Stacks on W57th Street. Their collecting interest centered on renaissance and baroque medals and plaquettes. Their activities in education, museums, catalogues, research and support of the numismatic community were extensive. They made important contributions to the collections of the ANS in New York, especially of ancient coins, and various collegiate institutions from Harvard to Newark. The ANS has the Mark M. Salton Memorial Lecture in his honor. worldcat.org, the premiere academic index lists 11 works in 54 publications in 3 languages and 593 library holdings, which would be a worth accomplishment all on its own, including The Salton collection. renaissance and baroque medals and plaquettes: [BRUNSWICK, MAINE] : [BOWDOIN COLLEGE. MUSEUM OF ART], [1965].
Next week, Stacks Bowers, at the New York International Numismatic Convention (January 16th, 2022), is prepared to auction many works from the Salton collection. According to Stacks:



Auction houses Stack's Bowers Galleries and Künker have been chosen to sell the illustrious Mark and Lottie Salton Collection, a comprehensive holding of many thousands of chiefly gold and silver coins of Ancient Greece, the Roman Empire, and Europe from the medieval period to the 20th century. The collections, built over a lifetime starting in the 1940s and perhaps earlier, will be dispersed in a series of joint auctions held in the United States and Germany, commencing with a superb offering of Ancient Greek and select European coins at the New York International Numismatic Convention (NYINC) on January 16, 2022.
At the behest of the late Mark and Lottie Salton, proceeds from the sale of the collections will benefit equally three organizations that are committed to the remembrance of the victims of the Holocaust and to ensuring that their fates will never be repeated: the Anti-Defamation League (ADL), the American Society for Yad Vashem, and the Leo Baeck Institute....
Over the course of 2022-2023, Stack's Bowers Galleries and Künker will offer the complete Mark and Lottie Salton Collection of coins. The vast size and importance of this cabinet were previously known by only a select few, and its presentation at auction will bring this once private collection into full view and prominence. Through its U.S.-based auctions, Stack's Bowers Galleries will offer the Saltons' Ancient Greek, British, Polish, Russian, Asian, and United States coins, while Künker will offer the Ancient Roman as well as the balance of the Saltons' continental European coins through its Germany-based auctions.
As much as all of this is of intense interest, I had discovered much of this from research a single individual piece that Stacks has currently up for auction, which no doubt I will never be able to afford.
https://auctions.stacksbowers.com/lots/view/3-UPQRT/judaea-first-jewish-war-66-70-ce-ar-shekel-1391-gms-jerusalem-mint-year-3-689-ce-ngc-au-strike-45-surface-45-edge-m
It is already at $4,800 and it is a JUDAEA. First Jewish War, 66-70 C.E. AR Shekel, Year 3. I find it appropriate that a holocaust survivor such as the Saltons would have such of fine coin from the Bar Kofka rebellion. There is always intense interest in these coins when they come to market, which is partly a function of the love the Jewish people have for their heritage which so often has been attacked. Many times it was declared that the Jewish people were no more, and yet, from the Bar Kofka rebellion until this post Holocaust era, we are yet still here (and still under intense pressure and violence by those who would deny our people hood). This puts this particular auction, in my mind, in a special context. Thisweek, the Torah reading is Parsha Bo, which is the section when the Jews are freed from Egyptian Slavery after the ten plagues. The journey of Max Schessenger was not alone. His is one of many which traces its roots to this coin, and even before the Romans, Before the Greeks, before the advent of Coinage itself.
pre { background: transparent }pre.western { font-family: "Liberation Mono", monospace; font-size: 10pt }pre.cjk { font-family: "Noto Sans Mono CJK SC", monospace; font-size: 10pt }pre.ctl { font-family: "Liberation Mono", monospace; font-size: 10pt }blockquote { margin-left: 0.39in; margin-right: 0.39in; background: transparent }p { line-height: 115%; margin-bottom: 0.1in; background: transparent }a:link { color: #000080; so-language: zxx; text-decoration: underline }