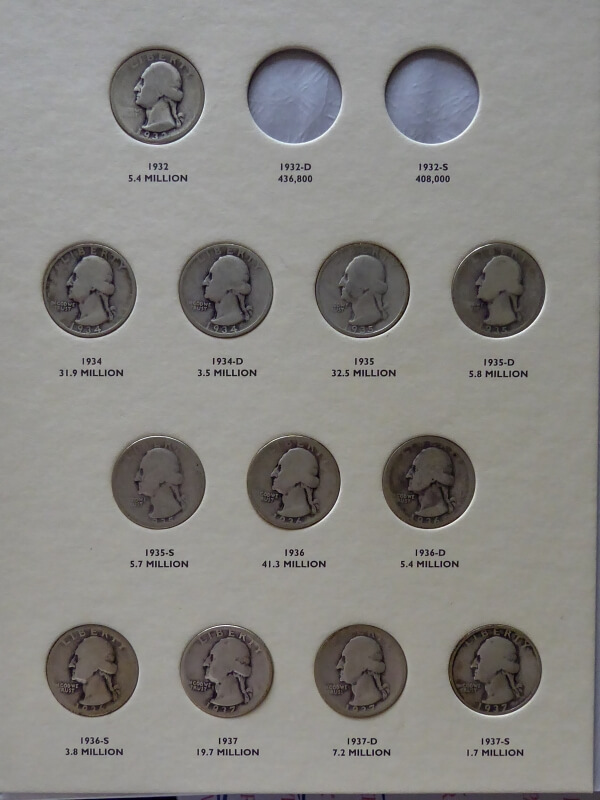 Coin Collecting - Phase I
I'm in my sixties and I'm starting to collect coins, seeded by a modest inherited collection. I vaguely remember having some coin folders when I was a young boy, but I did not develop and continue the hobby, when spare change was more relevant to coin collecting than today's pocket change. The attached image is the first section in my Littleton Washington Quarter Folder, 1932-1947. It reveals the only two missing quarters in this Folder: 1932-D & 1932-S. I can go to the bank and get rolls of quarters, but I'm not going to find these two quarters. If I pay significant money for these two coins, I'm not going to take them out of their certified cases and put them in the folder. Now I have to make a decision - What is my intention for collecting coins? I'll keep this answer brief. I'm going to collect coins for coin folders, but pass up spending more than $5 to $10 for that rarer than average coin missing from a folder. I will call this PHASE ONE of my coin collecting activities. Once the penny, nickel, dime, quarter, and perhaps half dollar and dollar coin folders are as complete as possible without investing significant amounts of money for a single coin, then PHASE ONE will be complete. That will mean some slots will never be filled, but so be it.
PHASE TWO of my coin collecting will be the thoughtful and educated process of acquiring more valuable coinage. I won't be able to open a folder and look at them all at once, but Phase 2 will be as much an investment vehicle as it will be a collection of coins. Both phases will be FUN!