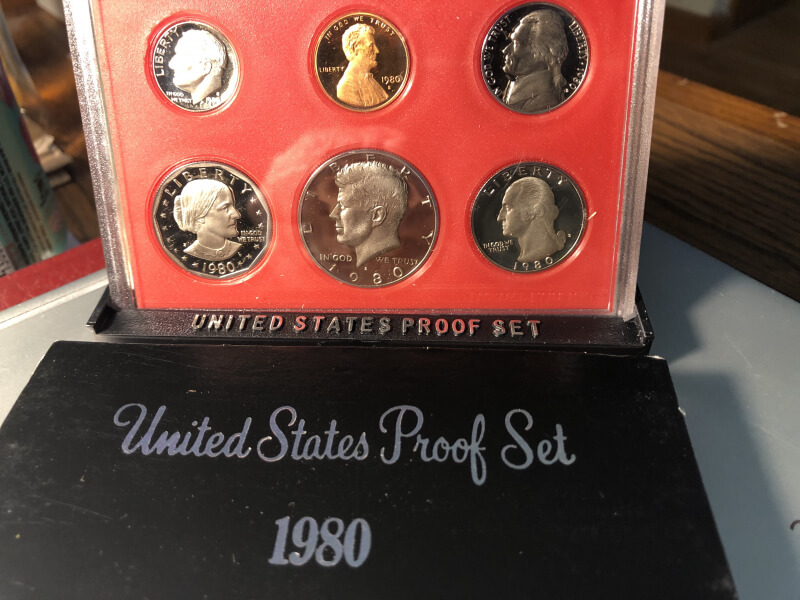 1980 Proof Set ... Bonus!
     Hello again friends and family,
     I'm starting today's blog with the thought that I have previously mentioned in a prior blog that at one time during my military career I served in what a lot folks have termed the "deep state".  1980 was my first duty assignment during this time. Before I accepted this assignment I was notified that I would have to be in country for 90 days before I could bring my dependent over. Since I had just got married, I thought this was a hardship! I now know that it was so that I could obtain off base housing. Talk about a learning curve! In my haste I rented a studio apartment and signed a contract for one year. Needless to say, my wife was NOT impressed! That's ok though, we made it through that year and then rented a 3 story house in the village of Nimy which is right outside of Mons, Belgium. My quality of life with my better half improved after that! Since my unit was a 24/7 outfit, we worked shift work. I really liked the way the shifts were structured. We worked 7 day shifts, 5 evening shifts, 7 midnight shifts and then 5 days off. I didn't get very much time off after our wedding ceremony so on our first anniversary I took her to the city of lights, Paris, France for a week to make up for "lost time". 
     These coins bring back fond memories of the start of our life together. Their luster and beauty match the nights we spent in Paris. The total mintage for this set was down slightly from the prior year, coming in at 3,554,806. This proof set does have it drawbacks though. Per My Coin Guides Network: "The sets contained the same six coins as the prior year with a face value of $1.91, but the issue price was increased from $9.00 to $10.00." Another slight problem with this set is "However, some sets not stored carefully may exhibit hazy toning over the surfaces of the coins." If you'll notice in the pictures I'm providing, some of the red plastic piece has broken off in my set. I'm not sure if this affects the state of the coins or not, but I guess we'll see! I'm not complaining yet though because like the title says, this set plus the 1981 set were bonus sets. I purchased the 3 sets from Modern Coin Mart and only bought them for the 1979 Proof Set, but received the 1980 and 1981 sets also.
     These 3 U.S. Mint Proof Sets will fit nicely into the collection that I'm going to assemble. This almost catches me up on proof sets. I'll be blogging about the 1981 set in my next blog, although I do have the 3 Key Date sets "in the mail"! Until next time, stay safe, HEALTHY, and coronavirus free !
Charlie aka slybluenote