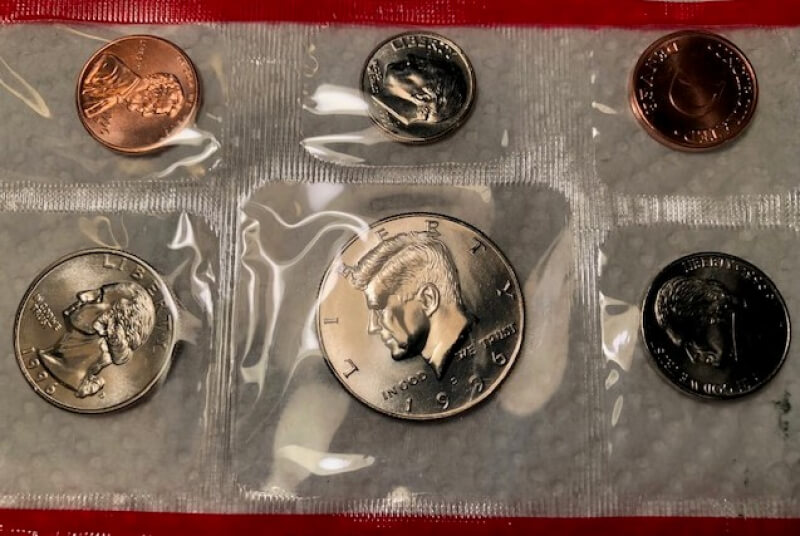 1996...A good year to remember!
Good morning folks!
     I recently updated my mint/proof set collections and decided to share my thoughts on the Uncirculated Mint set. I remember the year very well since it's the year that I seriously considered terminating my career working with the Department of the Army as a civilian. I had been a Telecommunications center operator for quite a few years and the position was becoming fairly boring. In late 1995 I had a conversation with the Director and expressed my concerns. He advised me to "hang in there" for a little while longer and he would see what he could do for me. In Feb. 1996 he offered me the position of Tables Manager/Assistant On-Site Programmer. It was also a promotion from GS-08 to GS-09 which at the time was a pretty good pay raise and also meant no more shift work and I moved into an "office" environment.
     When I first started collecting mint/proof sets, one of my first purchases was a package deal which consisted of "Key Date US Proof Set Collection (1960, 1974, 1986, 1996)".  It's important to remember that the 1996 proof set is different from the 1996 mint set. What I did shortly after receiving these proof sets was to purchase a 1996-W dime separately. It was a little pricey but I wanted it anyway (Mokie understands this point)! When I got the dime in the mail, I immediately put it in a slab and put it in my "Collectible Coins of America" collection. Recently I went ahead and bought the Uncirculated Mint set. According to MyCoinGuides, "Sales of the 1996 Mint Set reached 1,457,000, which was slightly higher than typical at the time. This figure also became the mintage of the 1996-W Roosevelt Dime, which made it the lowest mintage circulation strike issue of the series. Individually, the coins sell at a premium, which also carries over to complete versions of the mint set, which contain the coin." This website goes on to state that "The 1996-W Roosevelt Dime was released to celebrate the 50th anniversary of the series. This issue is notable because of its relatively low mintage and the use of the "W" mint mark. Typically, this mint mark has only been used for bullion or commemorative coin issues, struck in gold, silver, or platinum." This was a nice addition to my meager collection and I'm proud to add it to my proof sets.
     My 4th of July weekend went well and I hope everyone else had the opportunity to spend time with friends and family. One of my collector friends recently suggested that I start a collection of nickels and I bought a 1950-D Jefferson recently while taking this proposal under consideration. Although I have several "irons in the fire" currently, I may eventually do this, but only after consultation with LongStrider and Kepi....  ;-) ! In conclusion, as always, stay safe, HEALTHY, and coronavirus free and enjoy the pictures!
Charlie aka slybluenote