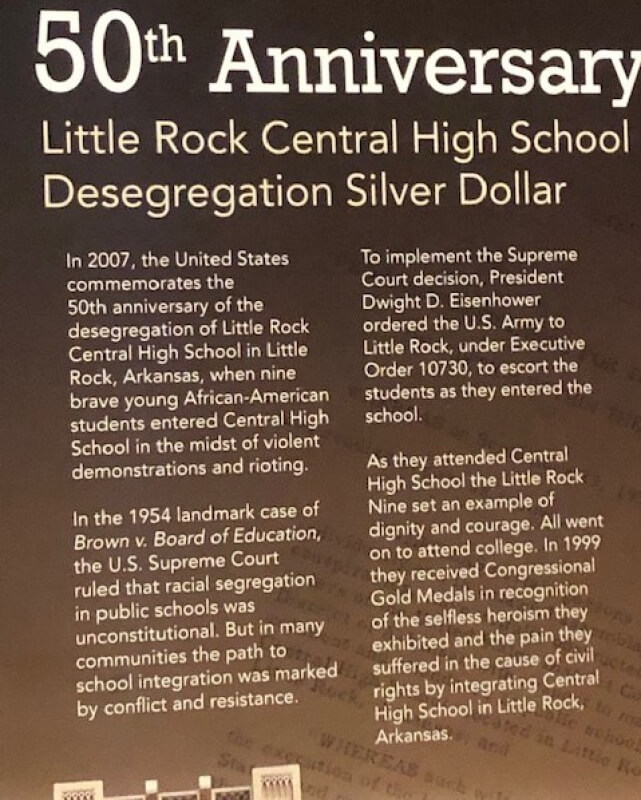 American Legacy Sets Part 1
     When I first started collecting mint/proof sets I discovered the American Legacy Sets. They were only made from 2005 to 2008,  there are only 4 of them which makes them easy to collect. I currently have all of them except for the 2008 which I will be ordering in a few days. Today, I would like to talk about the 2007 set. It consists of the Jamestown commemorative and the Little Rock commemorative. I really like these sets because they employ the "KISS" theory (keep it simple stupid)! This set has 16 beautifully designed coins, which were all minted at the San Francisco mint, except for the commemorative coins which were minted at Philadelphia.
     The left hand side of the packaging gives a brief history of the Jamestown commemorative coin, which is a silver dollar. The short narrative lays out the events that took place at Jamestown when the first folks landed there and named the colony after King James I of England. As I'm sure most of you folks know, I learned about this in grade school along with the story of Capt. James Smith, chief Powhatan, and Pocahontas.
     The right hand side of the packaging talks about the Little Rock Nine, Central High School in Little Rock, Arkansas. Naturally, it speaks about "Brown vs the Board of Education law that was passed in 1954 (the year I was born). This coin is also a silver dollar. The segregation law, Executive Order 10730 was signed by Dwight D. Eisenhower to order the kids to  attend the school. I'm surprised the mint didn't include a "Ike" dollar instead of the Sacagawea. Oh well, such is history! The mintage for the Jamestown coin is 260,363 and the designer for the obverse is Donna Weaver and Susan Gamble designed the reverse, weighs 26.73 grams, is .900 silver and .100 copper with a diameter of 38.1 mm and a reeded edge. The Little Rock commemorative was designed by Richard Masters (obverse) and Don Everhart (reverse), weighs 26.73 grams, is .900 silver, .100 copper, is 38.1 mm and also has a reeded edge. The mintage for the Little Rock coin is 124,678.
    Please enjoy the pictures and stay tuned for the next part of this "American Legacy" series. As always, stay safe, HEALTHY, and coronavirus free!
Charlie aka slybluenote