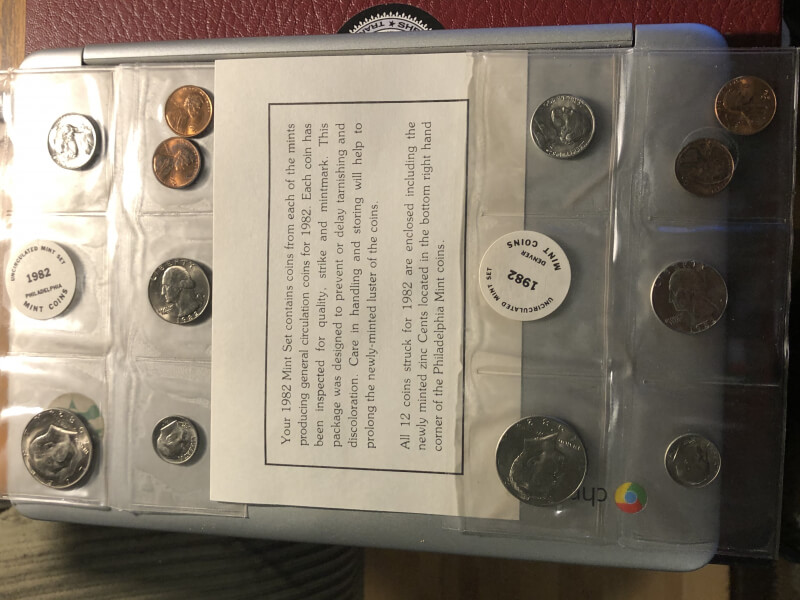 Good morning fellow numismatists and friends,
     To be honest, I'm just a little confused. Recently I purchased a 1982 Uncirculated coin set off of the Etsy website. I know that I've heard good things and bad things about this particular website. I was actually looking for the 1982 souvenir mint sets, but I thought what the heck, it was anot fairly reasonable price so I ordered it. I also have a couple of 1982 proof sets and a 1982 Denver souvenir set and was trying to obtain the 1982 Philadelphia souvenir set. I have now read and re-read pages 1228 thru 1238 of A Guide Book of United States Coins Mega Red 6th Edition and consulted the Internet a couple of times and have come to what I think is a sound conclusion: there was no 1982 Uncirculated coin set.
     Since most of you folks are smarter than the average "bear", I would appreciate your thoughts/comments on what I actually purchased. Of course I will add this set to the other sets in my collection just because it's different. According to the Mega Red book, there were 1982 proof sets made and 1982 souvenir sets made, but NO 1982 uncirculated sets made. That's my story and I'm sticking to it! After inspecting the packaging, I discovered several signs that sent "red flags" up in my head. As you will notice there is NO mint marks on the brown envelope. Also, the plastic packaging doesn't have the red and blue stripes at the top denoting Philadelphia & Denver. The medals are both white in the plastic. The card inside looks legit, but I'm thinking anyone could type up a card. My best guess is that these coins probably came from a proof set.
     In conclusion, I paid a "double sawbuck" for this set, but I will mark it as a lesson learned. I haven't put the coins under a magnifying glass yet, but may do so before I add them to my collection with an annotation of my findings. What do you think? Until next time, stay safe, HEALTHY, and coronavirus free and enjoy the pictures!
Charlie aka slybluenote