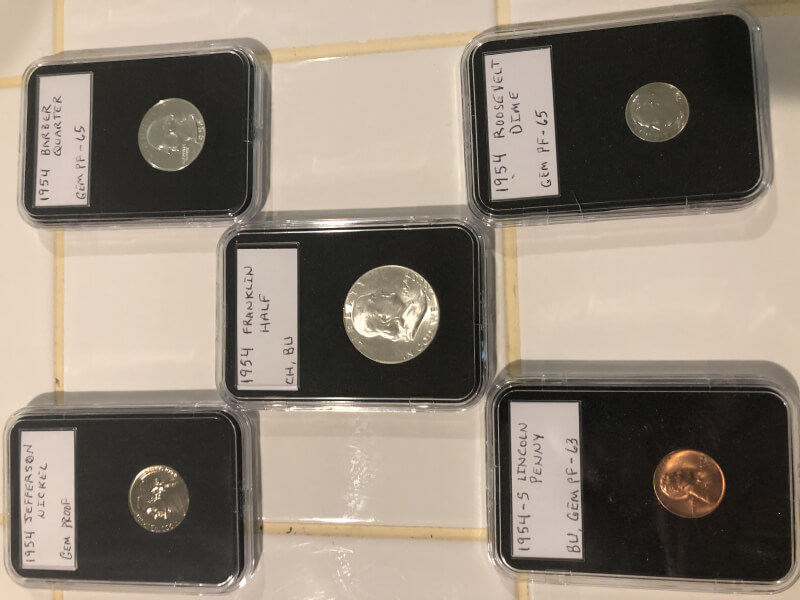 Hello again family and friends,
     As I said in my last post, I finally broke down and obtained the 2012 Silver Proof set. They are VERY nice coins.  I know that availability is a driver in the numismatic field. I'm not second guessing my purchase but I still wonder what drove me to want this particular proof set. Is it the fact that there is a mystery surrounding the mint release of this product? Whatever it was that made me want this beautiful set, I'm glad that I made the purchase. I also see from my last post that quite a few of you do collect birth year sets. The decision to collect proof sets still hasn't been made yet, but I'm already considering a bicentennial silver proof set! I may not even make the decision and just collect the sets that I want when I can afford them!
     In my last post I also promised to reveal my birth set that I made by selecting each individual coin until I had the set complete. This was a lot of fun, but I'm not sure if my coins would be as nice as a set put together by the U.S. Mint. Someday, I may even attempt to grade them! Needless to say, the pursuit of these 2 sets has hampered my progress on my Kennedy Half dollar collection. I'm 73% done with the Kennedy collection, so I'm making good progress, but there are quite a few that are awaiting slabbing! I also have several other Mint sets. 1961, the wife, 1962, the sister-in-law, 1979, marriage, plus 1980 and 1981 that came with the 1979, and of course the 1999 Philadelphia, Denver, and San Francisco Silver proof sets for my girlfriend (daughter).  I also bought the 2010 Silver proof set also that I just bought on a whim. The one that contained the Lincoln cent bicentennial coins. Again, I only bought this set because it was affordable but was pleasantly surprised when I received the set.
     In the end, every time I blog about proof sets, I'll just post pictures of the sets I've obtained. As always, stay safe, HEALTHY, and coronavirus free.  Charlie aka slybluenote