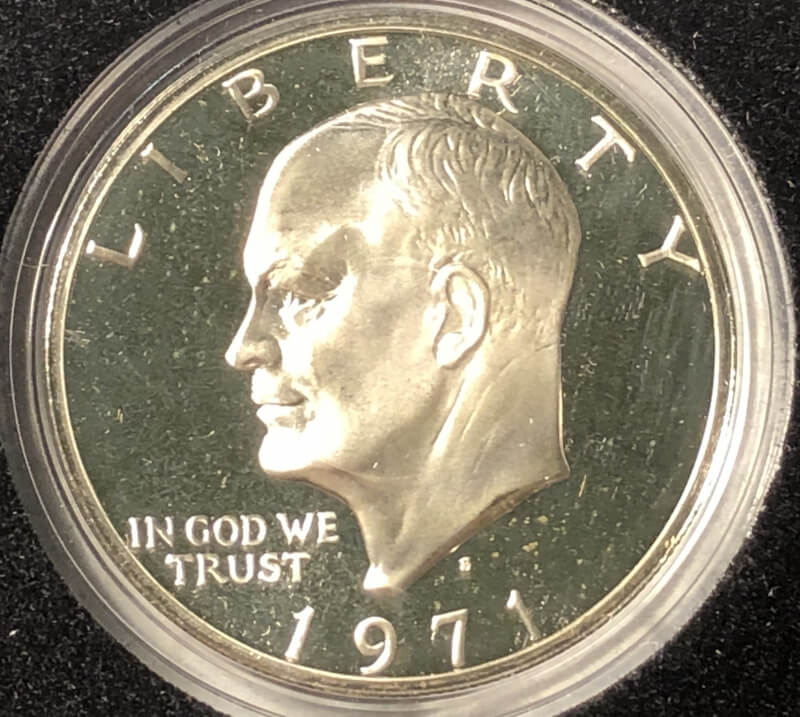 Top O' the morning folks !
     I know today is Thanksgiving, but I just wanted to share the latest addition to my "Ike" collection. I recently picked up this set and will be adding it to my collections page soon. The 1971-S was designed by Frank Gasparro, weighs 24.59 grams, is made of 40% silver and 60% copper, has a reeded edge, is 38.1 mm in diameter and was minted at Philadelphia, Denver, and San Francisco. The mintage for this piece is 6,868,530. It's counterpart's obverse was designed by John Mercanti and the reverse by Marcel Jovine. It weighs 26.73 grams, is made of .900 silver and .100 copper, has a reeded edge, is 38.1 mm in diameter and was minted at West Point (Uncirculated) and Philadelphia (Proof). It's mintage is 1,144,461. 
     A couple of "fun facts" about the commemorative are according to the Mega Red 7th Edition "Five outside artists as well as the artists on the Mint Engraving Dept. Staff were invited to submit designs for this silver dollar. This is the only U.S. coin to feature two portraits of the same person on the same side. The reverse shows Eisenhower's retirement residence identified as EISENHOWER HOME."  Speaking of retirement residences, this set will retire in my Ike collection ! 
     I saw a post online a couple of days ago that reminded me of the many Thanksgivings that I spent abroad and want everyone to keep our military in their thoughts and prayers this holiday season. I also am thankful for the many friends that I have, including here in the numismatic community! The picture below is of me in Vilseck, Germany 2 years after the 1971-S was minted. Ike and I have 1 thing in common, we both served our country. As always, stay safe, HEALTHY, and coronavirus free and enjoy the pictures.
Charlie aka slybluenote 
P.S. I was also thankful for 2 other reasons in the picture below. 1, I was alive and 2, I was in Germany vice Vietnam !