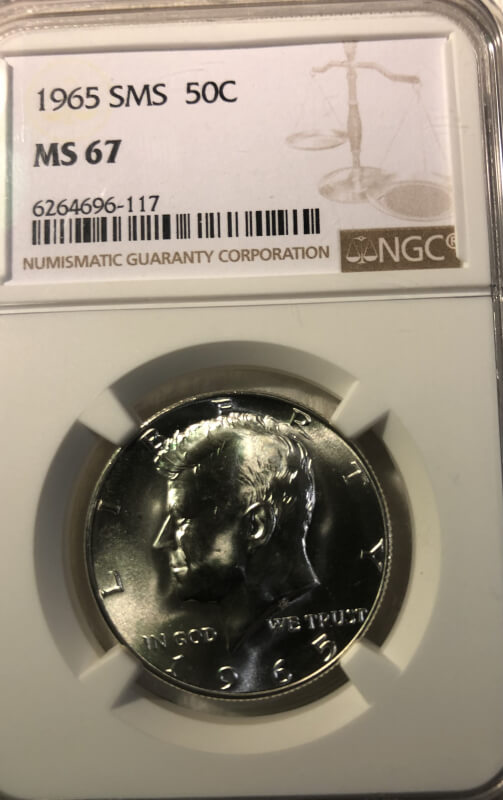 Top O' the Morning folks!
     Today's topics are going to be about coins, mental health, and did I mention coins? As I'm sure you're all aware, sometimes watching the evening news can be unsettling to say the least. For LongBeard and some others who may not have been around back in 1965, I can honestly say one thing: at least America's young folks aren't being actively drafted. As for myself I was still a couple of years away from being a teenager and it seemed like time was sitting still. Little did I realize that I would be growing up very soon. Watching the news this week had me fanaticizing about having a "Aladdins Lamp".  My 3 wishes would be that 1, I was about 45 years younger, 2, I had unlimited financial resources, and 3, that everyone was invincible to the horrors of war. Now that my mental health rantings are done, let's talk about coins.
     Recently I was doing some light shopping for my collection. As most of you are aware, I do like my Kennedy half  dollars. My stepdad, far left in the picture below, collected them along with the bicentennial quarters. 1965 was the first year that the silver content of the Kennedy was reduced from 90 percent to 40 percent. Also in 1965 production of the mint and proof sets were suspended due to the coin shortage. The circulation mintage was 65,879,366. The SMS mintage was 2,360,000. According to "My Coin Guide", "This issue can be difficult to find in higher mint state grades. There are fewer than 20 pieces graded MS67 by PCGS and NGC, with none graded finer." The 1976 Silver Bicentennial quarter below had a mintage of 4,000,000. The 1976 dollar, half dollar, and quarter were the most collected coins that year. Also while shopping, I got to thinking about a blog one of the YN's had posted about roll/bag hunting, so I purchased 4 three pound bags of "wheaties", a pound bag of 1940/1950 Jefferson nickels (since I'm currently trying to round up some nickels for my nickel collection), several envelopes that contain nickels and 2 envelopes of Presidential dollars. Since this is a substantial amount of coins, I'll be sharing the results at a later date.
     So far, I've got the one pound of 1940/1950 nickels sorted i.e. 1940's and 1950's, but as with my other coins, the one's in the pictures included, they still have to be logged into my brand spanking new spreadsheet! As always, enjoy the pictures, stay safe, HEALTHY, and coronavirus free! As I mentioned earlier, my stepdad is on the far left, my real dad is in the middle and yours truly is on the right. The day this picture was taken was fairly stressful for me since it was the first time my 2 dads had met. I'm proud to say that things went well! Keep the citizens of Ukraine 🇺🇦  In your thoughts and prayers during the upcoming weeks!
Charlie aka slybluenote
P.S. I did watch the opening ceremonies for The National Coin show on YouTube yesterday!