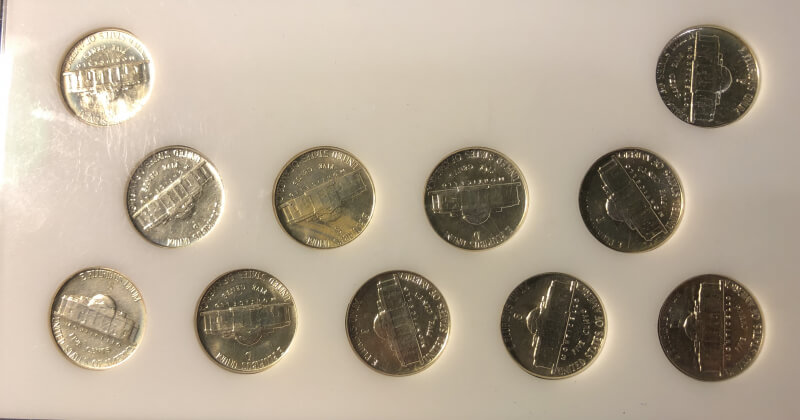 Top O' the morning folks!
     Reading LongBeard's thread reminded me of one of my earlier posts in which I promised to share some nickels that I had recently purchased. I bought them all except for the 1913 Buffalo which came from my mom's collection. The first one is a 1950-D Jefferson, which is a key date in the series. That's the main reason I wanted it. The second reason that I wanted it is that it's BU and very pleasing to the eye. The mintage for this coin is 2,630,030, weighs in at 5 grams, is composed of .750 copper and .250 nickel and has a diameter of 21.2 mm and was designed by Felix Schlag. If you're going to have a collection, you need the key date coins, right?
     The next pictures are of a set of "Wartime Silver Nickels". These were made between 1942 and 1945 and were made from silver alloy due to the WWII war effort. The lowest mintage for these years is the 1942-P, Proof, Silver which is 27,600 and also weighs 5 grams, and is made of .560 copper, .350 silver, .090 manganese, and these coins were also designed by Felix Schlag.
     The last 2 pictures are of a 1935 Buffalo nickel that my mom had saved. This nickel is made of .750 copper, .250 nickel, weighs 5 grams, and is also 21.2 mm in diameter. The 1935 Buffalo or as some folks call it a Indian Head has a mintage of 58,264,000 and was designed by James Earle Fraser. My mom was 3 years old when this coin was made and I'm sure it had some special meaning to her or she wouldn't have saved it. I've already put it into a slab along with the 1950-D and added to my collection, but I did mark the Buffalo as "not for sale"!
     In conclusion, when you see these pictures put on my "collections page" and you see me start referencing "A Guide Book of Buffalo and Jefferson Nickels" you will know for sure that I've started collecting these coins in earnest! Until then, enjoy the pictures, stay safe, HEALTHY, and coronavirus free!
P.S. the last picture is of me when I went down to Virginia recently to visit family and when I got the 1935 Buffalo nickel.