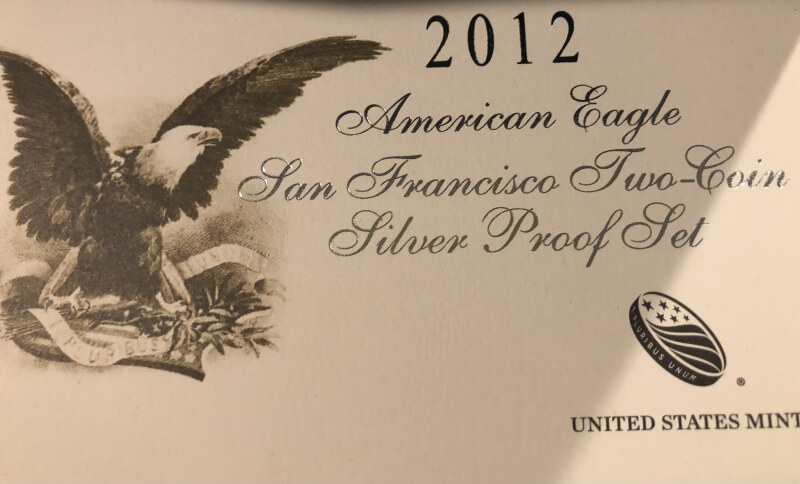 Good evening folks!
     Itā€™s been quite a while since Iā€™ve been on here. As most of you are aware, summer is winding down, so as promised in my last post, Iā€™m previewing two sets of the same type of coin. Actually Iā€™m a sucker for San Francisco minted silver coinage! These pictures donā€™t do justice to the actual pieces! Adolph Weinmanā€™s obverse and John Mercantiā€™s reverse are stunning to say the least. This combined with the craftsmanship of the mint reveals a beautiful specimen. 
     According to ā€œMy Coin Guideā€, sales for this particular year were sluggish. ā€œ During the year, the United States Mint released the 
San Francisco Silver Eagle Set
 to coincide with the 75th anniversary of the current facility at San Francisco. Each set included proof and reverse proof Silver Eagles bearing the ā€œSā€ mint mark. Rather than impose a maximum mintage, the Mint offered the set for a four week ordering window with the coins to be minted to demand based on the number of orders received. At the close of sales an order counter indicated sales of 251,302 sets, but cancellations and returns brought the final audited mintage down to 224,935.ā€ 
      The composition of these coins is 99.93% silver and 0.07 copper, they weigh 31.101 grams, are 40.6 mm in diameter, 2.98mm thick, and have a reeded edge. The graders at NGC graded the below coins MS69. Do you think the mint coins would come in at 70? Inquiring minds want to know.  Now that summer is basically over, Iā€™m going to try and post at least once a month. I still donā€™t have any of my nickels or ASEā€™s on the collections page yet but like I tell the ladies at the bank ā€œIā€™ve got more time than I do moneyā€ !  Iā€™ve also made considerable progress on the maintenance of my meager collection. As always, stay safe, healthy, and coronavirus free during the Labor Day weekend!
Charlie aka slybluenote